1. Introduction
In metal complexes, the thiocyanate group is an ambidentate ligand; it can be an N-donor, an S-donor or a bridging N,S-ligand. The factors influencing terminal N- or S-coordination have received much attention (Burmeister, 1975

, 1990

). Soft base S-coordination appears to be most common for second- and third-row transition-metal ions of soft acid character. In contrast, there appears to be no report of terminal S-coordinated thiocyanate with a first-row transition-metal ion such as NiII, which is the subject of the present study. A question that arises is whether it is possible to use variations in the other ligands to tune the characteristics of the NiII ion so that thiocyanate becomes S-coordinated. Whilst this was the motivation for the present work, the outcome was quite unexpected: we did not change the mode of thiocyanate coordination, but the chemical variations that we introduced had a major influence on the molecular packing in the crystal.
Nickel(II) thiocyanate complexes with N-donor ligands are of interest for several, often related, reasons. Noteworthy are their ability to occur in cis and trans isomeric forms (Đakovic et al., 2011

), the existence of coordination polymers in which thiocyanate is a linear bridging ligand (Quan et al., 2009

) and their potential for development as optical, porous, electrical, magnetic or conductive materials (Fafarman et al., 2011

; Zhang et al., 1999

; Soldatov et al., 2004

; Sinha & Singh, 2004

). Particularly relevant to the present work is that nickel(II) thiocyanate complexes have the details of their crystal architectures controlled by relatively weak forces such as hydrogen bonding (Đakovic et al., 2008

) or

-

stacking interactions. These aspects are evident in the crystal structures of nickel(II) isothiocyanate complexes with pyridine,

-picoline and nicotinic acid (Đakovic et al., 2008

, 2011

; Wang et al., 2006

; Saber et al., 2012

; Goher et al., 2003

).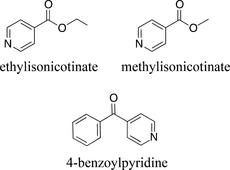 In the study of nickel(II) thiocyanate complexes for electrical, magnetic and conductive applications, it is inevitable that the focus should be on molecular design. However, the target properties are as much those of the solid-state materials as of the molecules, and so the interactions between molecules, and the consequent molecular packing, becomes relevant. Some aspects of this have already been recognized, as indicated above. Even so, there seems to have been no suggestion that it may be possible to design molecules to explore this important area. Here, we report the synthesis and crystal structures of three new monomeric trans-[NiL4(NCS)2] complexes, with L = ethylisonicotinate (I), methylisonicotinate (II) and 4-benzoylpyridine (III). The somewhat surprising structures obtained are correlated with their spectroscopic and thermal characteristics. Analysis of Hirshfeld surfaces, and some DFT calculations, are also used to gain insight.
4. Discussion
All of the available evidence points to a single conclusion: that the greater crystal density of (III) originates in a crystal packing resulting from smaller intermolecular electrostatic repulsions. An additional contributor may be that the polar O atoms in (I) and (II) are more at the periphery of the molecule than in (III). The question that immediately arises is whether these conclusions find support in the observed crystal structures. Figs. 4

(a)-(c) shows projections of (I)-(III) down the shortest crystal axes, and the comparison shows (III) to have O atoms clearly separated, unlike (I) and (II). However, this comparison is marred by the fact that (III) has the smallest unit cell. Perhaps a more accurate comparison is provided by Figs. 4

(a), (b) and (d), for which the axes of projection are of comparable length. Again, (III) emerges as showing the most separated O atoms.
A more quantitative analysis is provided by the Hirshfeld surfaces, from which the percentage of surface associated with each interaction type can be calculated. The results of such an analysis are given in Table 5

and are quite unambiguous. In compound (III) the intermolecular interactions involving the O atoms are an order of magnitude smaller than for any of the molecules of (I) and (II). Full details of this analysis are given in the supporting information .
Molecule
OO (% of surface)
SO (% of surface)
(I)
A
0.5
1.4
B
0.4
1.6
(II)
A
1.3
1.9
B
2.3
1.4
C
1.5
0.7
(III)
A
0.0
0.1
The two extreme examples of low and high density identified in the CSD, CERYUT and GESVEG, predictably deviate from this pattern. Thus, while in GESVEG the O

O and S

O interactions are absent, just as for (III) the much higher density probably comes from efficient

-

stacking, while in CERYUT the surface is dominated by interactions involving H (99.1%). It should be noted that low density can also be achieved by relatively strong directional interactions such as weak hydrogen bonds, provided the geometry allows the formation of networks.
We believe that this analysis serves to establish the origin of the different packing densities of compounds (I)-(III). This insight indicates the need to consider the consequences for packing of molecular choices made with the aim of enhancing specific properties of solids. The question at once arises of whether other molecular interactions could play a similar role, with the expectation that the answer would be in the affirmative. Further insights into other relevant interactions could well be gained by systematic study of crystallographic databases such as the CSD. Variations in crystal densities of rather similar compounds may point to pertinent examples.
Although it is evident that molecular packing as a topic in its own right is no less important than a study of intermolecular interactions in determining the properties of a solid, it is a topic that has attracted far less attention (Desiraju et al., 2011

). In the protein field, in particular, it is recognized that chemical variations can have a profound effect on intermolecular interactions and thus on molecular packing. So, there has been recognition of the importance of hydrogen bonding on the one hand and repulsive interactions between halogens on the other (Metrangolo et al., 2005

; Desiraju, 2011

). In large molecules, numerous small interactions can accumulate to give a clearly evident outcome. For small molecules, the situation is much more difficult and there have not been comparable extensive studies. In the present work we have drawn attention to a measurement which is always made but not always discussed, namely that of crystal density (in crystal structure predictions it is recognized as an important parameter). A study of crystal densities of related small molecules serves to draw attention to cases of very different packing, which can then be further explored. The present work has provided an example of this, although it is an unexpected aspect which emerged whilst the chemical work was in progress. More specifically targeted work would be expected to lead to significant progress. The recognition of the most important interactions controlling the molecular packing of small molecules would surely have an impact on the rational design of economically important polymeric inorganic materials. It is noteworthy that significant progress has been made in the organic field (Day et al., 2009

); the next major step must surely be in the inorganic field.
LÖ thanks the Swedish Research Council and LÖ and MAMAY acknowledge support from the International Development Agency (SIDA) through the Swedish Research Links Program.
Allen, F. H. (2002). Acta Cryst. B58, 380-388.




Bala, R., Sharma, R. P., Sharma, R. & Kariuki, B. (2006). Inorg. Chem. Commun, 9, 852-855.



Bruker (2008). APEX2, SADABS, SAINT and SHELXTL. Bruker AXS, Madison, Wisconsin, USA.
Burmeister, J. L. (1975). The Chemistry and Biochemistry of Thiocyanic Acid and its Derivatives, edited by A. A. Newman, pp. 68-130. London: Academic Press.
Burmeister, J. L. (1990). Coord. Chem. Rev. 105, 77-133.




Cabaleiro, S., Castro, J., Vázquez-López, E., Garcia-Vázquez, J. A., Romero, J. & Sousa, A. (1999). Polyhedron, 18, 1669-1674.



Cieplak, P. (1991). J. Comput. Chem. 12, 1232-1236.



Clark, R. J. H. & Goodwin, A. D. J. (1970). Spectrochim. Acta A, 26, 322-330.


Đakovic, M., Popovic, Z. & Smrecki-Lolic, N. (2008). J. Mol. Struct. 888, 394-400.
Đakovic, M., Vila-Viçosa, D., Calhorda, M. J. & Popovic, Z. (2011). CrystEngComm, 13, 5863-5871.
Day, G. M. et al. (2009). Acta Cryst. B65, 107-125.






Dennington, R. II, Keith, T., Millam, J., Eppinnett, K., Hovell, W. L. & Gilliland, R. (2003). GAUSSVIEW, Version 3.03. Semichem Inc., Shawnee Mission, Kansas, USA.
Desiraju, G. R. (2011). Cryst. Growth Des. 11, 896-898.



Desiraju, G. R., Vittal, J. J. & Ramanan, A. (2011). Crystal Engineering. A Textbook. Singapore: World Scientific.
Fafarman, A. T., Koh, W. K., Diroll, B. T., Kim, D. K., Ko, D. K., Oh, S. J., Ye, X., Doan-Nguyen, V., Crump, M. R., Reifsnyder, D. C., Murray, C. B. & Kagan, C. R. (2011). J. Am. Chem. Soc. 133, 15753-15761.




Ferraro, J. R. (1971). Low-Frequency Vibrations of Inorganic and Coordination Compounds. New York: Plenum Press.
Flack, H. D. (1983). Acta Cryst. A39, 876-881.



Frisch, M. J. et al. (2004). GAUSSIAN03. Gaussian Inc., Pittsburgh, Pennsylvania, USA.
Gándara, F., Fortes-Revilla, C., Snejko, N., Gutiérrez-Puebla, E., Iglesias, M. & Monge, M. A. (2006). Inorg. Chem. 45, 9680-9687.


Gavezzotti, A. (2008). CrystEngComm, 10, 389-398.


Goher, M. A., Mautner, F. A., Abu-Youssef, M. A., Hafez, A. K., Badr, A. M. & Gspan, C. (2003). Polyhedron, 22, 3137-3143.



Keller, R. N., Johnson, N. B. & Westmoreland, L. L. (1968). J. Am. Chem. Soc. 90, 2729-2730.



Kutzke, H., Klapper, H., Hammond, R. B. & Roberts, K. J. (2000). Acta Cryst. B56, 486-496.




Macrae, C. F., Bruno, I. J., Chisholm, J. A., Edgington, P. R., McCabe, P., Pidcock, E., Rodriguez-Monge, L., Taylor, R., van de Streek, J. & Wood, P. A. (2008). J. Appl. Cryst. 41, 466-470.





McKinnon, J. J., Jayatilaka, D. & Spackman, M. A. (2007). Chem. Commun. pp. 3814-3816.


McKinnon, J. J., Spackman, M. A. & Mitchell, A. S. (2004). Acta Cryst. B60, 627-668.




Metrangolo, P., Neukirch, H., Pilati, T. & Resnati, G. (2005). Acc. Chem. Res. 38, 386-395.





Mitchell, P. C. H. & Williams, R. J. P. (1960). J. Chem. Soc. p. 1912.


Motherwell, W. D. S. (2010). CrystEngComm, 12, 3554-3570.



Murray, J. S. & Sen, K. (1996). Molecular Electrostatic Potentials, Concepts and Applications. Amsterdam: Elsevier.
Norbury, A. H. (1975). Advances in Inorganic and Radiochemistry, Vol. 17, edited by H. J. Emeléus & A. G. Sharpe, pp. 231-386. New York: Academic Press.
Quan, Y., Yin, P., Han, N., Yang, A., Gao, H., Cui, J., Shi, W. & Cheng, P. (2009). Inorg. Chem. Commun. 12, 469-472.



Saber, M. R., Abu-Youssef, M. A., Goher, M. A., Sabra, B. A., Hafez, A. K., Badr, A. M. & Mautner, F. A. (2012). J. Mol. Struct. 1008, 17-23.



Scrocco, E. & Tomasi, J. (1978). Adv. Quantum Chem. 11, 115-193.



Sheldrick, G. M. (2008). Acta Cryst. A64, 112-122.




Sinha, R. K. & Singh, N. (2004). Trans. Met. Chem, 29, 812-820.
Soldatov, D. V., Enright, G. D. & Ripmeester, J. A. (2004). Cryst. Growth Des. 4, 1185-1194.




Spackman, M. A. & Jayatilaka, D. (2009). CrystEngComm, 11, 19-32.




Spackman, M. A. & McKinnon, J. J. (2002). CrystEngComm, 4, 378-392.




Spackman, M. A., McKinnon, J. J. & Jayatilaka, D. (2008). CrystEngComm, 10, 377-388.


Spek, A. L. (2009). Acta Cryst. D65, 148-155.





Wang, C., Zhu, Z., Zhou, X., Weng, L., Shen, Q. & Yan, Y. (2006). Inorg. Chem. Commun. 9, 1326-1330.



Yakovenko, A. A., Gallegos, J. H., Antipin, M. Y., Masunov, A. & Timofeeva, T. V. (2011). Cryst. Growth Des. 11, 3964-3978.



Zhang, H., Wang, X., Zhang, K. & Teo, B. K. (1999). Coord. Chem. Rev. 183, 157-195.