Acta Crystallographica Section C
Crystal Structure Communications
Volume 60, Part 5 (May 2004)
---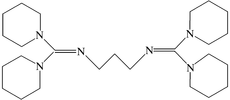 Acta Cryst. (2004). C60, o358-o360 [doi:10.1107/S0108270104007012]
N,N'-Bis(dipiperidin-1-ylmethylene)propane-1,3-diamine and N,N'-bis(1,3-dimethylperhydropyrimidin-2-ylidene)propane-1,3-diamine
S. Herres, U. Flörke and G. Henkel
Abstract: The molecular structures of the title compounds, C25H46N6 and C15H30N6, respectively, show the two guanidyl moieties each connected by propyl bridges. The different substitution pattern of the guanidyl groups has no influence on the distinct localization of their C=N double bonds. Both compounds exhibit approximate twofold symmetry and the crystal packing shows no prominent hydrogen-bonding interactions.
Formula: C25H46N6 and C15H30N6
Online 30 April 2004
---




Structure factor file (CIF format) (303.8 kbytes)
Contains datablock I

---




Structure factor file (CIF format) (198.6 kbytes)
Contains datablock II

---
Notes:
To open or display or play some files, you may need to set your browser up to use the appropriate software. See the full list of file types for an explanation of the different file types and their related mime types and, where available links to sites from where the appropriate software may be obtained.
The download button will force most browsers to prompt for a file name to store the data on your hard disk.
Where possible, images are represented by thumbnails.
---
Copyright © International Union of Crystallography
IUCr Webmaster