---



Volume 69
Part 1
Pages 21-24
January 2013

Received 4 October 2012
Accepted 4 December 2012
Online 13 December 2012

Completing the bis[hydroxybis(pyridin-2-yl)methanesulfonato-3N,O,N']MII series (M = Mn to Zn) with the copper(II) and cobalt(II) structures

The CuII complex bis[hydroxybis(pyridin-2-yl)methanesulfonato-3N,O,N']copper(II) hexahydrate, [Cu(C11H9N2O4S)2]·6H2O, (I), crystallizes in the space group P, compared with P21/c for the anhydrous CoII analogue bis[hydroxybis(pyridin-2-yl)methanesulfonato-3N,O,N']cobalt(II), [Co(C11H9N2O4S)2], (II). However, both molecules sit on a crystallographic inversion centre and are thus very similar in appearance. Jahn-Teller elongation of the Cu-O bonds [2.347 (3) Å in (I) and 2.064 (2) Å in (II)] influences the S-O bond lengths, which are all around 1.455 (3) Å in (I) and 1.436 (2)-1.473 (2) Å in (II).
Comment
The distinction between bonding and supramolecular interactions is blurred in Jahn-Teller-distorted systems, where the weakening of some coordination bonds puts them on a par with hydrogen bonds. The interplay between the two types of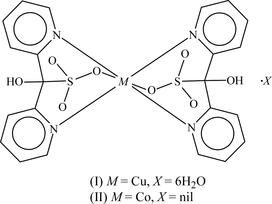 bonding is of particular interest in copper complexes because of its occurrence in enzymes,
e.g.
the active site in copper amine oxidase from
Hansenula polymorpha
(Li
et al.
, 1998

).
Because of their complexity and, often, low resolution, protein structures are not the ideal platform for studying the subtler details of the relationship between these two interactions. Small inorganic complexes and salts provide a higher resolution and a more systematic means of investigation.
Beagley et al. (1989

) established that, for the hexaaqua divalent metal cations in Tutton's salts, Cs2[M(H2O)6](SO4)2, Jahn-Teller distortion weakens the hydrogen bonds from the coordinated water, with elongated Cu-O bonds. This is because the partial positive charge on their H atoms is reduced relative to the water H atoms, which are more fully coordinated to the metal.
The current study is based on work carried out by Abrahams et al. (2006

), who previously reported the structures of the bis[hydroxybis(pyridin-2-yl)methanesulfonato-

3N,O,N']MII complexes for Mn, Fe, Ni and Zn. The structures of the Co and Cu complexes reported herein, namely bis[hydroxybis(pyridin-2-yl)methanesulfonato-

3N,O,N']copper(II) hexahydrate, (I)

, and bis[hydroxybis(pyridin-2-yl)methanesulfonato-

3N,O,N']cobalt(II), (II)

, complete the series from Mn to Zn.
Each divalent metal in (I)

and (II)

is coordinated by two hydroxybis(pyridin-2-yl)methanesulfonate ligands in a centrosymmetric arrangement (Figs. 1

a and 1b), with distinct Jahn-Teller tetragonal elongation involving the M-O bonds in the Cu case. The Jahn-Teller radius, RJT, calculated using RJT2 =

6i=1

di2, where di represents the deviation of the ith M-L bond length from the mean of the six (Falvello, 1997

), has a value of 0.385 Å, which is appropriate for the static Jahn-Teller tetragonal distortion seen in this case. It is interesting that, despite all the complexes being crystallized from aqueous solutions, it is only the copper complex that forms a hydrate; all the other complexes in this series form isostructural anhydrous crystals.
The extent of the M-O Jahn-Teller distortion can be seen when the M-O and M-N bond lengths from Abrahams et al. (2006)

and the current work are plotted against d electron configuration (Fig. 2

), while a similar plot of the three S-O bond lengths against d electron configuration (Fig. 3

) shows the combined effect of hydrogen bonding and coordination on the sulfite group. The S-O bond for the coordinated O atom is significantly longer than the two noncoordinating S-O bonds in all but the copper complex. The nearly identical S-O bond lengths in the copper complex suggest that the strength of the Cu

O interaction is on a par with the SO

HOH hydrogen bonds (Fig. 4

). This contrasts with the situation in all the other complexes, where the S-O bonds involving the coordinated O atom remain significantly longer than the other S-O bonds, despite the involvement of one of the other O atoms in a strong hydrogen bond with the alcohol H atom (Fig. 5

).
A useful comparison may be made between the current structure of (I)

and bis[bis(3,5-dimethylpyrazol-1-yl)acetato]copper(II) and its hydrate (Kozlevcar et al., 2003

). In both these structures, the Cu atom sits on an inversion centre. In the anhydrous compound, typical Jahn-Teller elongation of the Cu-O bonds is observed. On dehydration, the Cu-O bond shrinks and a pair of Cu-N bonds lengthen to maintain the Jahn-Teller distortion. This is an unusual situation, as only 5% of crystal structures established to date in the well studied CuN4O2 system adopt Cu-N elongation rather than Cu-O. In the anhydrous compound, a significantly longer C-O bond length [1.262 (3) Å] is observed for the coordinated carboxylate O atom than for the noncoordinated carboxylate O atom [1.214 (3) Å]. For the hydrated compound, the two C-O bond lengths are indistinguishable [1.245 (4) and 1.241 (4) Å]. The authors attributed the similar carboxylate C-O bonds in the hydrate to the binding of both O atoms to a Lewis acid, i.e. to the Cu and to a water molecule. In Cu structure (I)

, the overall effect is to make all three S-O bonds identical within experimental error, suggesting that a similar process to that seen in the above carboxylate is in operation.
Experimental
The title compounds were prepared using aqueous solutions of 2,2'-dipyridyl ketone, sodium bisulfite and transition metal nitrate in a 2:2:1 molar ratio. For the current work, the solutions were diluted tenfold relative to those used by Abrahams et al. (2006

), i.e. 0.025 M di-2-pyridyl ketone (2 ml), 0.025 M sodium sulfite (2 ml) and 0.025 M copper or cobalt nitrate (1 ml). These were mixed together and left to stand in open containers at room temperature for a week in order to produce good-quality crystals.
H atoms were refined isotropically in both structures. Additionally, for the CuII complex, distance restraints were applied to the water H atoms, whereby the O-H distances were restrained to 0.958 (10) Å and the H

H distances to 1.516 (10) Å.
For both compounds, data collection: COLLECT (Nonius, 1998

); cell refinement: SCALEPACK (Otwinowski & Minor, 1997

); data reduction: DENZO (Otwinowski & Minor, 1997

) and SCALEPACK; program(s) used to solve structure: SIR92 (Altomare et al., 1994

); program(s) used to refine structure: SHELXL97 (Sheldrick, 2008

); molecular graphics: ORTEP-3 for Windows (Farrugia, 1997

); software used to prepare material for publication: WinGX (Farrugia, 1999

) and publCIF (Westrip, 2010

).
---
Supplementary data for this paper are available from the IUCr electronic archives (Reference: FA3287 ). Services for accessing these data are described at the back of the journal.
---
Acknowledgements
The authors acknowledge the use of the EPSRC's Chemical Database Service at Daresbury (Fletcher et al., 1996

; Allen, 2002

) and EPSRC support for the purchase of equipment.
Abrahams, B. F., Hudson, T. A. & Robson, R. (2006). Chem. Eur. J. 12, 7095-7102.





Allen, F. H. (2002). Acta Cryst. B58, 380-388.




Altomare, A., Cascarano, G., Giacovazzo, C., Guagliardi, A., Burla, M. C., Polidori, G. & Camalli, M. (1994). J. Appl. Cryst. 27, 435.



Beagley, B., Eriksson, A., Lindgren, J., Persson, I., Pettersson, L. G. M., Sandstromr, M., Wahlgrenll, U. & White, E. W. (1989). J. Phys. Condens. Mat. pp. 2395-2408.


Blessing, R. H. (1995). Acta Cryst. A51, 33-38.



Falvello, L. R. (1997). J. Chem. Soc. Dalton Trans. pp. 4463-4475.


Farrugia, L. J. (1997). J. Appl. Cryst. 30, 565.



Farrugia, L. J. (1999). J. Appl. Cryst. 32, 837-838.




Fletcher, D. A., McMeeking, R. F. & Parkin, D. (1996). J. Chem. Inf. Comput. Sci. 36, 746-749.




Kozlevcar, B., Gamez, P., de Gelder, R., Driessen, W. L. & Reedijk, J. (2003). Eur. J. Inorg. Chem. pp. 47-50.
Li, R., Klinman, J. P. & Mathews, F. S. (1998). Structure, 6, 294-307.



Nonius (1998). COLLECT. Nonius BV, Delft, The Netherlands.
Otwinowski, Z. & Minor, W. (1997). Methods in Enzymology, Vol. 276, Macromolecular Crystallography, Part A, edited by C. W. Carter Jr & R. M. Sweet, pp. 307-326. New York: Academic Press.
Sheldrick, G. M. (2008). Acta Cryst. A64, 112-122.



Westrip, S. P. (2010). J. Appl. Cryst. 43, 920-925.