Comment
We have synthesized several lead carboxylates in order to characterize their structures as part of a larger research project studying the degradation phenomena of ancient pieces of art, in particular paintings. Indeed, the formation and slow crystal growth of lead carboxylates within paint layers can eventually cause the formation of cracks and fractures that irreversibly damage the artistic works (Higgitt et al., 2003

; Niklasson et al., 2004

; Plater et al. 2003

; Schieweck et al., 2009

; Tétreault et al., 1998

, 2003

). Among the whole carboxylate homologous family, the simplest compound, lead(II) formate, Pb(HCOO)2, (I)

, has been widely investigated and characterized in the past, as witnessed by over 100 bibliographic references addressing its preparation and formation, thermodynamic properties and applications. Nevertheless, the published structural characterization is very old and incomplete. The first published crystal structure is probably that reported in 1932 by Halla & Zimmermann (1932

), but the information accessible from the Cambridge Structural Database (CSD, Version 5.33, November 2011; Allen, 2002

) is limited to just one entry, by Harrison & Steel (1982

) (CSD refcode BIYLAW), which is incomplete since no atomic coordinates were provided in the paper and, moreover, claims a different space group from the previous literature.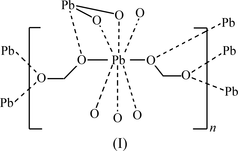 As a first and most relevant result of the present study, our diffraction data clearly indicate the space group P212121, instead of the space group Pnma reported by Harrison & Steel (1982

). The unit-cell dimensions are identical. Both space groups (P212121 and Pnma) possess 21 screw axes along the three crystallographic directions, thus showing systematic extinctions for odd index values in the reflections h00, 0k0 and 00l. Yet the additional conditions k + l = 2n for 0kl reflections, and even h values for hk0 reflections, must be fulfilled in the space group Pnma (Hahn, 2002

). It is interesting to note that the Pb2+ sites in the structure of (I)

obey the Pnma symmetry closely, although it is broken by the formate anions which conform only with the P212121 symmetry. Due to the dominant scattering power of Pb atoms, some reflections appear to be pseudo-extinct, and they were probably misinterpreted by Harrison & Steel (1982

) as corresponding to the presence of additional n- and a-glide planes.
In the present analysis, E statistics on the collected data clearly suggested the absence of an inversion centre, with a Sheldrick criterion |E2 - 1| = 0.666 (where E are the normalized structure factors, and 0.968 and 0.736 are the ideal values for a centric and an acentric random distribution, respectively) (Wilson, 1949

; Farrugia, 1999

). Moreover, an attempt to solve the structure in the space group Pnma produced an inadequate model where some atoms assumed forbidden bonding geometry, with inconsistently short distances between symmetry-equivalent atoms, and large and highly distorted displacement ellipsoids or, in some cases, nonpositive definite anisotropic displacement parameters. On the other hand, structure solution and refinement in P212121 were carried out successfully, leading to a final R1 value of 0.0354, which represents a better result than previous work [viz. 0.0549 in Harrison & Steel (1982

)]. Finally, the selected space group was post-validated using PLATON (Spek, 2009

), which did not suggest any other possible space group. The P212121 symmetry for lead formate is not actually completely new, as it had been suggested very early on by Sugawara et al. (1951

). However, based on the atomic coordinates published by those workers, we obtained a structure totally inconsistent with the well known geometries of formate groups, being strongly distorted and characterized by unrealistic bond lengths.
Part of the crystal structure of (I)

is shown in Fig. 1

and projections of unit-cell contents are shown in Fig. 2

. Selected geometric data are given in Table 1

. The current structure in the space group P212121 qualitatively resembles that reported by Harrison & Steel (1982

) in terms of the general structural characteristics (i.e. the Pb coordination and the general behaviour of the Pb-O bonds). Our investigation confirms that (I)

is a three-dimensional coordination polymer, where the formate anions act as tetradentate bridging groups between adjacent PbII cations, which exhibit a distorted eightfold coordination (Fig. 3

). As observed previously (Harrison & Steel, 1982

), the PbII cation forms three shorter and five longer bonds to the O atoms. Quantitatively, the bond lengths in both structures differ, as expected in view of the incorrect space-group assignment. The correctness of the currently assigned space group is clearly indicated by the value of the Flack (1983

) parameter [x = 0.03 (4)].
Experimental
The title compound can be obtained easily via literature methods [see, for example, Zhang et al. (2007

) and Arnaiz et al. (2010

)]. In the present work, crystals of lead formate were obtained by fractional crystallization from a formic-acid-containing solution of lead palmitate. A few drops of formic acid were added to a saturated solution of lead palmitate, Pb[OCO(CH2)14CH3]2, in MeOH. The mixture was refluxed for a few minutes and the white insoluble solid which formed was filtered off. The colourless saturated solution was collected in a small vial and crystallized by the diffusion method; the vial was placed in a screw-capped glass test tube containing a few millilitres of Et2O and left at room temperature for several days. A small number of white lead formate single crystals were collected from the solution.
H atoms were placed in idealized positions and refined as riding, with C-H = 0.93 Å and Uiso(H) = 1.2Ueq(C). PLATON (Spek, 2009

) was used for analysing and validating the symmetry, while the Flack parameter (Flack, 1983

) was used to determine the absolute structure.
Data collection: CrysAlis CCD (Oxford Diffraction, 2005

); cell refinement: CrysAlis RED (Oxford Diffraction, 2005

); data reduction: CrysAlis RED; program(s) used to solve structure: WinGX (Farrugia, 1999

) and SUPERFLIP (Palatinus & Chapuis, 2007

); program(s) used to refine structure: WinGX (Farrugia, 1999

) and SHELXL97 (Sheldrick, 2008

); molecular graphics: Mercury (Macrae et al., 2008

); software used to prepare material for publication: publCIF (Westrip, 2010

).
---
Supplementary data for this paper are available from the IUCr electronic archives (Reference: SK3452 ). Services for accessing these data are described at the back of the journal.
---
The European Social Fund FSE 2007-2013 of the Veneto Region is gratefully acknowledged for the grant supporting this research. The research was also partially supported by the `Progetto d'Ateneo 2006' to FN. AL thanks Professor Luciano Pandolfo and the referees for useful suggestions.
Allen, F. H. (2002). Acta Cryst. B58, 380-388.




Arnaiz, F. J., Pedrosa, M. R. & Aguado, R. (2010). Inorganic Experiments, 3rd ed., edited by J. D. Woollins, pp. 43-46. Weinheim: Wiley-VCH Verlag GmbH & Co.
Farrugia, L. J. (1999). J. Appl. Cryst. 32, 837-838.




Flack, H. D. (1983). Acta Cryst. A39, 876-881.



Hahn, T. (2002). Editor. International Tables for Crystallography, Vol. A, Space-Group Symmetry, 5th ed., pp. 206-207 and 298-299. Dordrecht: Springer.
Halla, F. & Zimmermann, L. (1932). Z. Kristallogr. 83, 497-498.


Harrison, P. G. & Steel, A. T. (1982). J. Organomet. Chem. 239, 105-113.



Higgitt, C., Spring, M. & Saunders, D. (2003). Natl Gallery Tech. Bull. 24, 75-95.
Macrae, C. F., Bruno, I. J., Chisholm, J. A., Edgington, P. R., McCabe, P., Pidcock, E., Rodriguez-Monge, L., Taylor, R., van de Streek, J. & Wood, P. A. (2008). J. Appl. Cryst. 41, 466-470.





Niklasson, A., Johansson, L.-G. & Svensson, J.-E. (2004). Proceedings of Metal 2004, 4-8 October 2004, National Museum of Australia, Canberra ACT, Australia, pp. 273-280.
Oxford Diffraction (2005). CrysAlis RED and CrysAlis CCD. Oxford Diffraction Ltd, Abingdon, Oxfordshire, England.
Palatinus, L. & Chapuis, G. (2007). J. Appl. Cryst. 40, 786-790.





Plater, M. J., de Silva, B., Gelbrich, T., Hursthouse, M. B., Higgit, C. L. & Saunders, D. R. (2003). Polyhedron, 22, 3171-3179.





Schieweck, A., Salthammer, T. & Watts, S. F. (2009). Organic Indoor Air Pollutants. Occurrence, Measurement, edited by T. Salthammer & E. Uhde, p. 273. Weinheim: Wiley-VCH Verlag GmbH & Co.
Sheldrick, G. M. (2008). Acta Cryst. A64, 112-122.



Spek, A. L. (2009). Acta Cryst. D65, 148-155.




Stoe & Cie (1999). X-RED. Stoe & Cie, Darmstadt, Germany.
Stoe & Cie (2001). X-SHAPE. Stoe & Cie, Darmstadt, Germany.
Sugawara, T., Kakudo, M., Saito, Y. & Nitta, I. (1951). X-sen, 6, 85-94.


Tétreault, J., Robbiola, L., Cano, E., van Bommel, M., Scott, D., Dennis, M., Barthés-Labrousse, M.-G. & Minel, L. (2003). Stud. Conserv. 48, 237-250.
Tétreault, J., Sirois, J. & Stamatopoulou, E. (1998). Stud. Conserv. 43, 17-32.
Westrip, S. P. (2010). J. Appl. Cryst. 43, 920-925.





Wilson, A. J. C. (1949). Acta Cryst. 2, 318-321.



Zhang, J., Liu, J.-J., Zhang, Z.-H., Lv, X.-C., Sun, L.-X., Xu, F., Tan, Z.-C., Zhang, T. & Sawada, Y. (2007). J. Therm. Anal. Calorim. 89, 643-647.