---



Volume 69
Part 1
Pages 8-10
January 2013

Received 19 November 2012
Accepted 28 November 2012
Online 13 December 2012

Controllable assembly of a three-dimensional metal-organic supramolecular framework including - stacking interactions

The mixed-ligand metal-organic complex poly[(3-phthalato)[2-3-(pyridin-2-yl)-1H-pyrazol-1-ido]dicopper(II)], [Cu2(C8H4O4)(C8H6N3)2]n, has been synthesized by the reaction of copper(II) acetate with 2-(1H-pyrazol-3-yl)pyridine (HL) and phthalic acid. The binuclear chelating-bridging L units are further linked by bridging phthalate ligands into a two-dimensional network parallel to the (010) plane. The two-dimensional networks are extended into a three-dimensional supramolecular architecture via - stacking interactions.
Comment
The rapid development in the crystal engineering of metal-directed supramolecular architectures assembled by means of coordinative forces, and other weak co-operative interactions such as hydrogen bonding and aromatic stacking, continues to attract considerable interest in the design of new crystalline materials (Ye et al., 2005

). As is widely known, the assembly of such materials can be influenced significantly by the reaction temperature, metal-ligand ratio, anion type, acidity and even the solvent, leading to the formation of a variety of interesting coordination complexes (Du et al., 2006

). In this regard, further exploration and appropriate experimental results may guide chemists from spontaneous assembly to the controllable preparation of metallosupramolecular systems. With regard to the organic ligands suitable for designing new metal-organic supramolecular structures, dicarboxylates such as the rigid aromatic phthalate, isophthalate and terephthalate anions have been widely utilized (Ye et al., 2005

).
N-Donor building blocks, such as the traditionally employed 2-(1H-pyrazol-3-yl)pyridine (HL), have been extensively studied in coordination chemistry. HL, first reported by Tisler et al. (1980

), is a multifunctional ligand having several coordination modes. For a long time, HL was considered a simple bidentate chelating ligand (Sugiyarto & Goodwin, 1988

) similar to 2,2-bipyridine. However, in 1997, Ward and co-workers (Jones et al., 1997

) observed another coordination mode, where it acted as a tridentate bridging ligand via deprotonation of the pyrazole NH group and coordination of the pyrazole N atom to a second metal ion. The coordination chemistry of HL as a tridentate bridging ligand with CuII cations has been studied by several researchers to date (Jeffery et al., 1997

; Mann et al., 1999

; Chandrasekhar et al., 2005

; Hu et al., 2006

), but to the best of our knowledge, only three structurally related CuII complexes with deprotonated HL and aromatic acids have been reported (Hu et al., 2006

).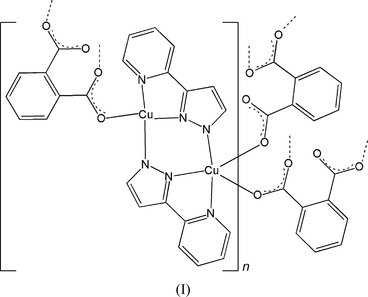 As a systematic investigation of the coordination chemistry of H
L
with Cu
II
, we report here the preparation and structural characterization of the title novel Cu
II
complex, (I)

.
The structure of (I)

is a two-dimensional layer constructed by the dicarboxylate ligands linking binuclear Cu2(L)2 units in which there are dual pyrazolate bridges. As shown in Fig. 1

, there are two independent CuII cations (Cu1 and Cu2) in the asymmetric unit. Atom Cu1 is four-coordinated by three N atoms of two distinct L ligands and one carboxylate O atom from a phthalate dianion to form a distorted square-planar geometry, with cis angles around the CuII centre ranging from 80.89 (10) to 96.45 (10)° (Table 1

). Atom Cu2 has a distorted square-pyramidal coordination geometry with three N atoms from the same two L ligands that coordinate to atom Cu1 and two O atoms from different carboxylate groups, one of which is in the apical position. Two L ligands bridge the two CuII centres to form an approximately planar Cu2(L)2 binuclear unit. Within this binuclear unit, the Cu1

Cu2 distance is 3.988 (1) Å, and the two planar Cu2(L)2 units are further bridged by bidentate (O1 and O2) and monodentate (O4) phthalate O atoms to form a two-dimensional layer parallel to the (010) plane. It should be noted that the phthalate dianions adopt two kinds of coordination mode in this two-dimensional pattern.
Within the two-dimensional layer, neighbouring parallel aromatic rings of L are 3.686 (2) and 3.898 (2) Å apart, indicating the presence of centroid-centroid

-

stacking interactions that further stabilize the crystal structure (Fig. 2

). The benzene rings, located on both sides of the coordination layers, show strong interlayer

-

stacking interactions (Fig. 3

); the centroid-centroid distances here are 3.674 (2) Å. These

-

interactions extend the two-dimensional layer network into a three-dimensional framework.
The structure of (I)

thus shows that the assembly of this complex is directed by the stereochemical preference of the CuII cations, and fulfilling this requirement necessitates deprotonation of the pyrazole groups to form a planar binuclear Cu2(L)2 unit.
Experimental
A mixture containing Cu(OAc)2·H2O (19.9 mg, 0.10 mmol), HL (14.5 mg, 0.10 mmol), phthalic acid (16.8 mg, 0.10 mmol) and H2O (10 ml) was sealed in a Teflon-lined stainless steel vessel (20 ml), which was heated at 413 K for 3 d and then cooled to room temperature at a rate of 5 K h-1. Blue block-shaped crystals of (I)

suitable for X-ray analysis were obtained in 60% yield. Analysis calculated for (I)

: C 49.74, H 2.78, N 14.50%; found: C 49.61, H 2.84, N 14.59%.
Although all H atoms were visible in difference maps, they were subsequently placed in geometrically calculated positions, with C-H = 0.93 Å, and included in the final refinement in the riding-model approximation, with Uiso(H) = 1.2Ueq(C).
Data collection: APEX2 (Bruker, 2003

); cell refinement: APEX2; data reduction: SAINT (Bruker, 2003

); program(s) used to solve structure: SHELXS97 (Sheldrick, 2008

); program(s) used to refine structure: SHELXL97 (Sheldrick, 2008

); molecular graphics: SHELXTL (Sheldrick, 2008

) and DIAMOND (Brandenburg et al., 2005

); software used to prepare material for publication: SHELXTL.
---
Supplementary data for this paper are available from the IUCr electronic archives (Reference: SK3461 ). Services for accessing these data are described at the back of the journal.
---
Acknowledgements
We acknowledge financial support by the Special Fund for Central Universities (grant No. ZXH2009D011), the Natural Science Foundation of Tianjin (grant No. 09JCYBJC04200), the National Natural Science Foundation of China Civil Aviation Administration of China (grant No. 61079010) and the Scientific Research Foundation of Civil Aviation University of China (grant No. 2011KYS05).
Brandenburg, K. & Berndt, M. (2005). DIAMOND. Crystal Impact GbR, Bonn, Germany.
Bruker (2003). APEX2, SAINT and SADABS. Bruker AXS Inc., Madison, Wisconsin, USA.
Chandrasekhar, V., Nagarajan, L., Gopal, K., Baskar, V. & Kogerler, P. (2005). Dalton Trans. pp. 3143-3145.



Du, M., Jiang, X. J. & Zhao, X. J. (2006). Inorg. Chem. 45, 3998-4006.






Hu, T. L., Li, J. R., Liu, C. S., Shi, X. S., Zhou, J. N., Bu, X. H. & Ribas, J. (2006). Inorg. Chem. 45, 162-173.






Jeffery, J. C., Jones, P. L., Mann, K. L. V., Psillakis, E., McCleverty, J. A. & Ward, M. D. (1997). Chem. Commun. pp. 175-176.


Jones, P. L., Jeffery, J. C., McCleverty, J. A. & Ward, M. D. (1997). Polyhedron, 16, 1567-1571.




Mann, K. L. V., Psillakis, E., Jeffery, J. C., Rees, L. H., Harden, N. M., McCleverty, J. A., Ward, M. D., Gatteschi, D., Totti, F., Mabbs, F. E., McInnes, E. J. L., Riedi, P. C. & Smith, G. M. (1999). J. Chem. Soc. Dalton Trans. pp. 339-348.



Sheldrick, G. M. (2008). Acta Cryst. A64, 112-122.



Sugiyarto, K. H. & Goodwin, H. A. (1988). Aust. J. Chem. 41, 1645-1663.



Tisler, M., Stanovnik, B. & Versek, B. (1980). Vestn. Slov. Kem. Drus. 27, 65-72.


Ye, B. H., Tong, M. L. & Chen, X. M. (2005). Coord. Chem. Rev. 249, 545-565.