Acta Crystallographica Section C
Crystal Structure Communications
Volume 69, Part 8 (August 2013)
---
organic compounds
---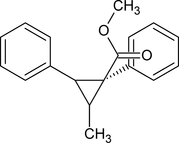 Acta Cryst. (2013). C69, 910-914 [ doi:10.1107/S0108270113017496 ]
Determination of the electron density in methyl (±)-(1S,2S,3R)-2-methyl-1,3-diphenylcyclopropanecarboxylate using refinements with X-ray scattering factors from wavefunction calculations of the whole molecule
Abstract: The molecule of the title compound, C18H18O2, is a substituted cyclopropane ring. The electron density in this molecule has been determined by refining single-crystal X-ray data using scattering factors derived from quantum mechanical calculations. Topological analysis of the electron densities in the three cyclopropane C-C bonds was carried out. The results show the effects of this substitution on these C-C bonds.
Formula: C18H18O2
Keywords: crystal structure; electron density; molecular modelling.
---




MDL mol file (2.0 kbytes)
[ doi:10.1107/S0108270113017496/qs3027Isup3.mol ]
Supplementary material

---




Chemical Markup Language (CML) file (5.8 kbytes)
[ doi:10.1107/S0108270113017496/qs3027Isup4.cml ]
Supplementary material

---
Notes:
To open or display or play some files, you may need to set your browser up to use the appropriate software. See the full list of file types for an explanation of the different file types and their related mime types and, where available links to sites from where the appropriate software may be obtained.
The download button will force most browsers to prompt for a file name to store the data on your hard disk.
Where possible, images are represented by thumbnails.
---
Copyright © International Union of Crystallography
IUCr Webmaster