---



Volume 70
Part 2
Pages 220-224
February 2014

Received 12 December 2013
Accepted 13 January 2014
Online 25 January 2014

Four salt phases of theophylline

aWestchem, Department of Pure & Applied Chemistry, University of Strathclyde, 295 Cathedral Street, Glasgow G1 1XL, Scotland, and bVale of Leven Academy, Main Street, Alexandria G83 0BH, Scotland
Correspondence e-mail: a.r.kennedy@strath.ac.uk

The structures of two anhydrous salt phases of theophylline, namely 1,3-dimethyl-2,6-dioxo-7H-purin-9-ium tetra­fluoro­borate, C7H9N4O2+·BF4-, and 1,3-dimethyl-2,6-dioxo-7H-purin-9-ium chloride, C7H9N4O2+·Cl-, are reported together with the structures of two monohydrate salt forms, namely 1,3-dimethyl-2,6-dioxo-7H-purin-9-ium chloride monohydrate, C7H9N4O2+·Cl-·H2O, and 1,3-dimethyl-2,6-dioxo-7H-purin-9-ium bromide monohydrate, C7H9N4O2+·Br-·H2O. The monohydrate structures are mutually isostructural, with the cations and anions lying on crystallographic mirror planes (Z' = ). The main inter­molecular inter­action motif is a hydrogen-bonding network in the same mirror plane. The tetra­fluoro­borate structure is based on planar hydrogen-bonded theopylline cation dimers; the anions inter­act with the dimers in a pendant fashion. The anhydrous chloride structure has Z' = 2 and in contrast to the other species it does not form planar hydrogen-bonded constructs, instead one-dimensional chains of cations and anions propagate parallel to the crystallographic c direction. An earlier report claiming to describe an anhydrous structure of theophylline hydro­chloride is re-examined in light of these results. It is concluded that the earlier structure has been reported in the wrong space group and that it has been chemically misidentified.
1. Introduction
Theophylline (1,3-di­methylxanthine) is a naturally occurring base that is chemically and structurally related to caffeine and theobromine. Its main medicinal use is in the treatment of asthma symptoms, but in the field of crystal science it is perhaps better known as the model active pharmaceutical ingredient (API) at the heart of many physical-form screening and prediction studies. Three polymorphs have been structurally described (Fucke et al., 2012

), as have numerous organic cocrystal forms (see, for example, Fucke et al., 2012

; Karki et al., 2007

), as well as dimethyl sulfoxide (DMSO) and hydrate solvate forms (Cardin et al., 2007

; Sun et al., 2002

). The aqueous dissolution profile of theophylline and its transformation to theophylline hydrate has also received much attention (De Smidt et al., 1986

; Rodriguez-Hornedo et al., 1992

). Additionally, theophylline has been used as a ligand with d-block metals and several such complexes have been structurally characterized (see, for example, Abuhijleh et al., 2009

; Griffith & Amma, 1979

; Nolte et al., 2006

). Despite this inter­est, only two structures of simple salt forms where theophyllline acts as a Brønsted base and hence occurs as a protonated cation are known. A perchlorate salt form has been described (Biradha et al., 2010

) and, in a relatively early and film-based study that gave a poorly defined structure, an anhydrous hydro­chloride form has been described in the space group Pna21 (Koo et al., 1978

). This latter form is especially inter­esting to the pharmaceutical community as hydro­chloride salts are the commonest salt form of basic APIs to be commercially exploited (Stahl & Wermuth, 2008

). Herein, the structures of the tetra­fluoro­borate, (I)

, and hydrated bromide, (III)

, salts of theophylline are described, as are two new structures of theophylline hydro­chloride, viz. an anhydrate, (IV)

, and a monohydrate, (II)

. The identity of the previously reported hydro­chloride structure is re-assessed in light of these results.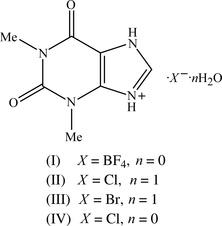 3. Results and discussion
The reaction of an aqueous slurry of theophylline with concentrated tetra­fluoro­boric acid gave the tetra­fluoro­borate salt, (I)

(Fig. 1

), of the protonated theophylline cation. This structure has a unit cell that is isomorphous with that of the reported perchlorate salt (Biradha et al., 2010

). Both the perchlorate and the tetra­fluoro­borate salt structures have the same hydrogen-bonding motif involving planar dimeric theophylline units forming a ten-membered ring (Fig. 2

and Table 2

). A similar dimeric hydrogen-bonding motif is observed in the structure of theophylline hydrate (Sun et al., 2002

). In tetra­fluoro­borate (I)

, the tetra­hedral counter-ion accepts a hydrogen bond from the second N-H group of the theophylline cation, and thus two anions lie pendant to the theophylline dimer. Note that only one of the four F atoms acts as a hydrogen-bond acceptor, though a second F atom does make a significantly short contact with

geometry through an inter­action with the central xanthine C-C bond [F4

C3 = 2.8704 (13) Å]. Again, a similar pendant inter­action occurs in the perchlorate structure, indicating that here similarities in the shape and general size of the anions outweigh any differences that might be expected due to their differing electronic natures. The mol­ecular geometry of the cation in (I)

, as judged by a comparison of the bond lengths and angles, is also in good agreement with that described for the perchlorate salt. The same is true for the mol­ecular geometries of all the other theophylline cations described herein (see Supporting information ).
On reaction of theophylline with concentrated aqueous HCl or HBr, the monohydrates of theophylline hydro­chloride, (II)

(Fig. 3

), and theophylline hydro­bromide, (III)

(Fig. 4

), were obtained. The structures of (II)

and (III)

are essentially mutually isomorphous and isostructural (see http://reference.iucr.org/dictionary/I ) and are thus described together. With the exception of the H atoms of the methyl groups, all the atoms of the cations of (II)

and (III)

lie on the mirror plane (Z' =

) in the space group Pnma. The halide ions reside in the same plane, but modelling the water mol­ecules in-plane gave models with elongated displacement ellipsoids for atom O1W. This effect was more pronounced for (III)

than for (II)

. Thus, the water mol­ecules are modelled as being displaced slightly out of plane, that is, they are disordered about the mirror. Alternative refinement in the space group Pna21 gives similar models with disorder in the position of the water mol­ecule. The higher-symmetry model is thus preferred. The hydrogen-bonded theophylline dimer observed for the structures with the tetra­hedral anions is not seen here. Instead, one N-H group donates a hydrogen bond to the halide anion, whilst the second N-H group donates a hydrogen bond to the water mol­ecule. Both H atoms of the water mol­ecule donate hydrogen bonds, one to the halide and one to atom O2 (Tables 3

and 4

). These hydrogen bonds combine to form planar sheets parallel to the ac plane, but they also leave one C=O group of each theophylline that, in contradiction to predictions based on Etter's rules, does not act as a hydrogen-bond acceptor (Etter, 1990

). The most significant inter­actions between adjacent sheets are the close contacts that result from the halide ions lying symmetrically between pairs of xanthine rings (Fig. 5

). For hydrated chloride salt (II)

, the shortest such contact is C3

Cl1' [3.3979 (6) Å], whilst for hydrated bromide salt (III)

the equivalent Br inter­action distance is 3.4307 (7) Å [symmetry code: (') -x +

, -y + 1, z +

].
Rather than using aqueous HCl, HCl can be generated in situ by reaction of alcohols with acetyl chloride. This water-free method has been used recently to produce salt forms of weakly basic groups and to obtain nonhydrated forms of salts (Perumalla & Sun, 2012

; Buist et al., 2013

). Using this technique with theophylline and methanol led only to an alternative preparation of (II)

. However, with ethanol, an anhydrous phase of theophylline hydro­chloride (IV)

was isolated and characterized (Fig. 6

). The structure is pseudocentrosymmetric and a solution is possible in the higher-symmetry space group C2/c. However, refining with this higher symmetry leads to scrambling of the C=O and N-Me positions, with all C=O and N-Me distances lying between 1.32 and 1.34 Å, and the constituent atoms have poor displacement-ellipsoid shapes. An ordered structure of (IV)

is thus described in the space group Cc and consists of two crystallographically independent cation and anion pairs (Z' = 2), hereafter ions A and B. The N-H groups of the cations act as hydrogen-bond donors only to the chloride anions (Table 5

). These inter­actions give parallel one-dimensional chains consisting of cation A with Cl2 and of cation B with Cl1. Both chains propagate parallel to the crystallographic c direction. Secondary inter­actions between chains of cation A and between chains of cation B take the form of stacking inter­actions between C4N2 rings. The shortest such C

C distances are 3.284 (8) and 3.285 (8) Å. The chains of cation A bind to the chains of cation B through C-H

Cl inter­actions involving the H atom of the imidazole rings (Table 5

). This weak C-H donor is not used to form hydrogen bonds in hydrate (II)

, presumably because water H atoms are available and are stronger donors. Unlike the other theopylline salt structures above, theophylline cations that are joined by hydrogen bonding in (IV)

are no longer coplanar, indeed neighbouring imidazole ring planes are now approximately perpendicular [89.8 (2) and 88.7 (2)°]. None of the C=O groups in chloride salt (IV)

act as classical hydrogen-bond acceptors, all four form only relatively long inter­actions with methyl-group H atoms.
In 1978, Koo et al. reported a single-crystal structure which they described as anhydrous theophylline hydro­chloride [Cambridge Structural Database (CSD; Allen, 2002

) refcode THEOPI (Koo et al., 1978

)]. However, the unit cell given is not that of anhydrous chloride salt (IV)

, but instead matches that of the hydrated form (II)

. THEOPI was prepared from aqueous HCl. The earlier description was based on film data and is rather inaccurate, with an R factor > 12% and no H-atom positions reported. Although the structure is reported as having the space group Pna21, recovery of the atomic positions from the CSD shows that all reported atoms have z coordinates of 0.5. Comparing the structure of (II)

with that of THEOPI shows that the cations and anions pack in an almost identical manner, the only observable difference being that where the water mol­ecules occur in (II)

there is a void in THEOPI (Fig. 8

). The diameter of the void is approximately 8.25 Å from N to Cl. Whilst one N-H group of the imidazole ring in THEOPI is in the correct position to form a hydrogen bond with the anion, the second N-H group is oriented towards the void. There is no suitable hydrogen-bond acceptor, such as would be expected for a formally partially positive H atom. Whilst it is possible to have hydrated and anhydrous phases of organic species that have somewhat similar unit cells, dehydration is typically accompanied by a shrinking of the void space previously occupied by water (see, for example, Shankland et al., 2001

). The evidence outlined above points towards THEOPI having been wrongly described as an anhydrous phase in the space group Pna21. We believe that it should have been described as the Pnma monohydrate form (II)

.
---
Supplementary data for this paper are available from the IUCr electronic archives (Reference: GZ3251 ). Services for accessing these data are described at the back of the journal.
---
Acknowledgements
CM wishes to thank the Nuffield Foundation for funding a research placement at the University of Strathclyde.
Abuhijleh, A. L., Abu Ali, H. & Emwas, A. H. (2009). J. Organomet. Chem. 694, 3590-3596.



Allen, F. H. (2002). Acta Cryst. B58, 380-388.




Barbour, L. J. (2001). J. Supramol. Chem. 1, 189-191.



Biradha, K., Samai, S., Maity, A. C. & Goswami, S. (2010). Cryst. Growth Des. 10, 937-942.



Buist, A. R., Kennedy, A. R., Shankland, K., Shankland, N. & Spillman, M. J. (2013). Cryst. Growth Des. 13, 5121-5127.



Cardin, C., Gan, Y. & Lewis, T. (2007). Acta Cryst. E63, o3175.



De Smidt, J. H., Fokkens, J. G., Grijseels, H. & Crommelin, D. J. A. (1986). J. Pharm. Sci. 75, 497-501.





Etter, M. (1990). Acc. Chem. Res. 23, 120-126.




Farrugia, L. J. (2012). J. Appl. Cryst. 45, 849-854.





Flack, H. D. (1983). Acta Cryst. A39, 876-881.



Fucke, K., McIntyre, G. J., Wilkinson, C., Henry, M., Howard, J. A. K. & Steed, J. W. (2012). Cryst. Growth Des. 12, 1395-1401.



Griffith, E. H. & Amma, E. L. (1979). J. Chem. Soc. Chem. Commun. pp. 322-324.



Karki, S., Friscic, T., Jones, W. & Motherwell, W. D. S. (2007). Mol. Pharm. 4, 347-354.




Koo, C. H., Shin, H. S. & Oh, S. S. (1978). J. Korean Chem. Soc. 22, 86-94.


Nolte, M., Pantenburg, I. & Meyer, G. (2006). Z. Naturforsch. Teil B, 61, 758-765.


Oxford Diffraction (2010). CrysAlis CCD and CrysAlis RED. Oxford Diffraction Ltd, Abingdon, Oxfordshire, England.
Perumalla, S. R. & Sun, C. C. (2012). Chem. Eur. J. 18, 6462-6464.




Rodriguez-Hornedo, N., Lechuga-Ballesteros, D. & Wu, H.-J. (1992). Int. J. Pharm. 85, 149-162.


Shankland, N., David, W. I. F., Shankland, K., Kennedy, A. R., Frampton, C. S. & Florence, A. J. (2001). Chem. Commun. pp. 2204-2205.



Sheldrick, G. M. (2008). Acta Cryst. A64, 112-122.




Stahl, P. H. & Wermuth, C. G. (2008). Editors. Handbook of Pharmaceutical Salts: Properties, Selection and Use. VHCA: Zurich.
Sun, C., Zhou, D., Grant, D. J. W. & Young, V. G. (2002). Acta Cryst. E58, o368-o370.