3. Molecular structures
The software module mol implements data structures to work with molecular data sets. At its heart lie the EntityHandle and EntityView classes, which represent molecular structures such as proteins, DNA, RNA and small molecules. Other classes deal with molecular surfaces as generated by MSMS (Sanner et al., 1996

) or other external tools. The EntityHandle class represents a molecular structure. The interface of entities is tailored to biological macromolecules, but this does not prevent it being used for any kind of molecule: for example, an entity may also represent a ligand or a collection of water molecules, hence the rather generic name. An entity is in general formed by one or more chains of residues. These residues in a chain may be ordered, for example in a polypeptide, or unordered, for example a collection of ligands. A residue consists of one or more atoms. The atoms store the atomic position, chemical element type, anisotropic B factor, occupancy, charge, atom bond list etc. The hierarchy of chains, residues and atoms is arranged in a tree-like structure rooted at the entity (Fig. 1

). The atoms of an entity may be connected by bonds, which group the atoms of the entity into one or more connected components.


Figure 1
Schematic diagram of the components of entity handles and views. The molecular structure is represented as a tree-like structure rooted at the entity (E). The levels of the tree are formed by chain (C), residue (R) and atom (A). In green, an example entity view containing only a selected subset of elements is shown. The hierarchy of the entity view is separate from the handle; however, at every level the view maps back to its handle, giving access to its properties.
3.1. Working with subsets of molecular structures
The processing and visualization of molecular entities often requires filtering using certain criteria. The results of these filtering operations are modelled as so-called EntityViews (Fig. 1

), which contain subsets of atoms, residues, chains and bonds of the respective EntityHandle. The entity view references the original data; for example, modifications to atom positions in the original entity handle are also reflected in the entity view. This handle/view concept pertains to the full structural hierarchy, i.e. residue views will only contain the atoms that were part of the filtering etc. The EntityView class shares a common interface with the EntityHandle class that it points to and hence they can be used interchangeably in Python. In C++, where type requirements are strict, we employ the visitor pattern (Gamma et al., 1995

) to walk through the chain, residue and atom hierarchy without having to resort to compile-time polymorphism through templates.
The use of entity views throughout the framework makes the implemented algorithms more versatile. For example, the code used to superpose two structures based on C

atoms can also be used to superpose the side chains of a binding site. The only difference is the view and thus the set of atoms that are passed to the superposition function. These sets of atoms do not need to be consecutive and thus arbitrary sets of atoms can be superposed.
3.2. The query language: making selections
Entity views are conveniently created by using a dedicated mini-language. Filtering a structure and returning subsets of atoms, residues, chains and bonds is achieved by predicates which are combined with Boolean logic, often referred to as `selection'. Typical examples include selecting all backbone atoms of arginines, binding-site residues, ligands or solvent molecules. Conceptually, the language is similar to the selection capabilities of other software packages, e.g. VMD (Humphrey et al., 1996

), Coot (Emsley et al., 2010

) or PyMOL (Schrodinger).
The predicates may use any of the available built-in properties defined for the atoms, residues and chains. Examples include the atom name, residue number, chain name or atom element. A complete list of built-in properties is given in the OpenStructure documentation. In addition, the predicates may refer to user-defined properties declared using generic properties (see below). The within operator of the query language allows the selection of atoms in proximity to another atom or another previously performed selection.
Since selection statements can be applied both to EntityHandles and EntityViews, complex selections can be carried out by chaining selection statements. For rare cases of highly complex selections, the user may assemble the view manually, for example by looping over the atoms and including atoms meeting some conditions.
3.3. Selection example: superposition
As an example of how entity views make OpenStructure functions more versatile, we will now consider the binding sites of two haem-containing proteins. We will use the Superpose function of the mol.alg module to calculate rotation and translation operators that superpose the atoms of two structures, firstly based on the coordinates of the haem ligands and secondly on the residues binding the haem: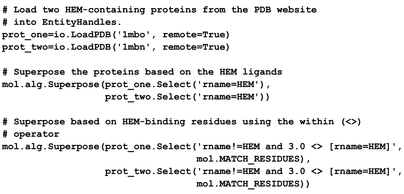 As can be seen, the superposition based on haem atoms or haem-binding residues use the same Superpose function. The only difference is the selection statement to prepare the subset of atoms used to superpose.
3.4. Mapping user-defined properties on molecular structures
Many algorithms calculate properties for atoms, residues, chains, bonds or entities. Examples of such properties include the sequence conservation of a residue or local structural similarity scores. OpenStructure includes a system to store these properties as key-value pairs in the respective handle classes: the generic properties. Classes deriving from GenericPropertyContainer inherit the ability to store properties of string, float, int and bool type, identified by a key. For each of these data types, methods to retrieve and store values are available in both Python and C++. As with all other built-in properties, the view counterpart will reflect the generic properties of the handle. Since generic properties are implemented at a low level of the API, they are accessible by the query language and may for example be used for substructure selection or in colouring operations.
3.5. Connectivity and topology
The conop module interprets the topology and connectivity of proteins, polynucleotides and small molecules. For example, after importing a structure from a PDB entry, bonds between atoms have to be inferred and missing information has to be completed. In addition, the conop module provides an infrastructure for consistency checks. OpenStructure supports two conceptually related yet different approaches for deriving the connectivity information: a rule-based approach that connects atoms based on rules outlined in a database and a heuristic approach which uses a distance-based heuristic.
The rule-based approach to connectivity derivation is based on a set of rules that define the bonding partners for each atom based on its name. The rules are extracted from the chemical component dictionary provided by the wwPDB (Berman et al., 2003

) and are stored in a compound library. Since this library has knowledge of all residues deposited in the PDB, deviations from the rules are easily detected and may be reported back to the user. For automatic processing pipelines that operate on large set of structures, strict settings when loading a structure are advised in order to limit surprises.
For structures from other sources, including molecular-dynamics simulations and virtual screening studies with loosely defined naming conventions, the heuristic approach might be more appropriate. The heuristic builder uses lookup tables for the connectivity of standard nucleotides and standard amino acids, but falls back to a distance-based connection routine for unknown residues or additional atoms that are present in the structure. In contrast to the rule-based approach outlined above, the heuristic builder is meant to be used as a quick-and-dirty connectivity algorithm when working with structures interactively.
3.6. Loading and saving molecular structures
OpenStructure contains the io module for importing and exporting structures from and to various file formats such as PDB, CRD and PQR. In the following, reading of molecular structures and molecular-dynamics trajectory files is described in more detail.
File input is concerned with data from external sources. As such, importers are exposed to files of varying quality. For automated processing scripts, it is crucial to detect nonconforming files during import, as every nonconforming file is a potential source of errors. For visualization purposes and interactive work, on the other hand, one would like files to load, even if they do not completely conform to standards. To account for these two different scenarios, OpenStructure introduced IO profiles in v.1.1. A profile aggregates flags that fine-tune the behaviour of both the io and conop modules during the import of molecular structures. The currently active IO profile controls the behaviour of the importer upon encountering an issue. By default, the import aborts upon encountering a nonconforming file. This strict profile has been shown to work well for files from the wwPDB archive. Many files that could not be loaded using the strict settings, exposed actual problems in the deposited files. These issues have been reported and resolved in the meantime by the wwPDB.
Molecular-dynamics simulations generate a series of coordinate snapshots of the simulated molecule. These snapshots are often stored in binary files. OpenStructure supports the reading of CHARMM-formatted DCD files in two different ways. Firstly, the whole trajectory may be loaded into memory. This is the recommended behaviour for small preprocessed trajectories. However, since trajectories may well be larger than the available RAM, loading the complete trajectory is not always an option. The second alternative is to load only a set of frames into memory. The remaining frames are transparently fetched from disc when required. This allows the efficient processing of very large trajectories without consuming huge amounts of memory.
Adams, P. D. et al. (2011). Methods, 55, 94-106.




Alber, F., Dokudovskaya, S., Veenhoff, L. M., Zhang, W., Kipper, J., Devos, D., Suprapto, A., Karni-Schmidt, O., Williams, R., Chait, B. T., Sali, A. & Rout, M. P. (2007). Nature (London), 450, 695-701.





Altschul, S. F., Gish, W., Miller, W., Myers, E. W. & Lipman, D. J. (1990). J. Mol. Biol. 215, 403-410.





Altschul, S. F., Madden, T. L., Schäffer, A. A., Zhang, J., Zhang, Z., Miller, W. & Lipman, D. J. (1997). Nucleic Acids Res. 25, 3389-3402.





Amrein, B., Schmid, M., Collet, G., Cuniasse, P., Gilardoni, F., Seebeck, F. P. & Ward, T. R. (2012). Metallomics, 4, 379-388.




Armon, A., Graur, D. & Ben-Tal, N. (2001). J. Mol. Biol. 307, 447-463.





Benarroch, D., Egloff, M. P., Mulard, L., Guerreiro, C., Romette, J. L. & Canard, B. (2004). J. Biol. Chem. 279, 35638-35643.




Benkert, P., Biasini, M. & Schwede, T. (2011). Bioinformatics, 27, 343-350.




Berman, H., Henrick, K. & Nakamura, H. (2003). Nature Struct. Biol. 10, 980.



Biasini, M., Mariani, V., Haas, J., Scheuber, S., Schenk, A. D., Schwede, T. & Philippsen, A. (2010). Bioinformatics, 26, 2626-2628.




Chaudhury, S., Lyskov, S. & Gray, J. J. (2010). Bioinformatics, 26, 689-691.




DiMaio, F., Tyka, M. D., Baker, M. L., Chiu, W. & Baker, D. (2009). J. Mol. Biol. 392, 181-190.





Dubois, P., Hinsen, K. & Hugunin, J. (1996). Comput. Phys. 10, 262-267.
Egloff, M.-P., Benarroch, D., Selisko, B., Romette, J.-L. & Canard, B. (2002). EMBO J. 21, 2757-2768.




Emsley, P., Lohkamp, B., Scott, W. G. & Cowtan, K. (2010). Acta Cryst. D66, 486-501.





Frigo, M. & Johnson, S. G. (2005). Proc. IEEE, 93, 216-231.



Gamma, E., Helm, R., Johnson, R. & Vlissides, J. (1995). Design Patterns. Reading: Addison-Wesley.
Guex, N., Peitsch, M. C. & Schwede, T. (2009). Electrophoresis, 30, S162-S173.




Ha, N.-C., Oh, S.-T., Sung, J. Y., Cha, K. A., Lee, M. H. & Oh, B.-H. (2001). Nature Struct. Biol. 8, 505-509.




Halstead, S. B. (2007). Lancet, 370, 1644-1652.




Hinsen, K. & Sadron, R. C. (2000). J. Comput. Chem. 21, 79-85.



Holm, L. & Sander, C. (1993). J. Mol. Biol. 233, 123-138.





Humphrey, W., Dalke, A. & Schulten, K. (1996). J. Mol. Graph. 14, 33-38.





Hunter, J. D. (2007). Comput. Sci. Eng. 9, 90-95.


Kabsch, W. & Sander, C. (1983). Biopolymers, 22, 2577-2637.





Kahraman, A., Malmstrom, L. & Aebersold, R. (2011). Bioinformatics, 27, 2163-2164.




Kohlbacher, O. & Lenhof, H. (2000). Bioinformatics, 16, 815-824.




Kryshtafovych, A., Fidelis, K. & Tramontano, A. (2011). Proteins, 79, 91-106.




Langer, G., Cohen, S. X., Lamzin, V. S. & Perrakis, A. (2008). Nature Protoc. 3, 1171-1179.



Larkin, M. A., Blackshields, G., Brown, N. P., Chenna, R., McGettigan, P. A., McWilliam, H., Valentin, F., Wallace, I. M., Wilm, A., Lopez, R., Thompson, J. D., Gibson, T. J. & Higgins, D. G. (2007). Bioinformatics, 23, 2947-2948.




Leaver-Fay, A. et al. (2011). Methods Enzymol. 487, 545-574.



Leitner, A., Walzthoeni, T., Kahraman, A., Herzog, F., Rinner, O., Beck, M. & Aebersold, R. (2010). Mol. Cell. Proteomics, 9, 1634-1649.



Lim, S. P. et al. (2011). J. Biol. Chem. 286, 6233-6240.




Mariani, V., Kiefer, F., Schmidt, T., Haas, J. & Schwede, T. (2011). Proteins, 79, 37-58.




Mariani, V., Schenk, A. D., Philippsen, A. & Engel, A. (2011). J. Struct. Biol. 174, 259-268.




Needleman, S. B. & Wunsch, C. D. (1970). J. Mol. Biol. 48, 443-453.





Olechnovic, K., Kulberkyte, E. & Venclovas, C. (2012). Proteins, 81, 149-162.


Philippsen, A., Schenk, A. D., Signorell, G. A., Mariani, V., Berneche, S. & Engel, A. (2007). J. Struct. Biol. 157, 28-37.





Philippsen, A., Schenk, A. D., Stahlberg, H. & Engel, A. (2003). J. Struct. Biol. 144, 4-12.




Rigden, D. J., Keegan, R. M. & Winn, M. D. (2008). Acta Cryst. D64, 1288-1291.




Sanner, M. F., Olson, A. J. & Spehner, J. C. (1996). Biopolymers, 38, 305-320.





Schmidt, T., Haas, J., Gallo Cassarino, T. & Schwede, T. (2011). Proteins, 79, Suppl. 10, 126-136.
Schroeder, W., Martin, K. & Lorensen, B. (2004). VTK - The Visualization Toolkit. http://www.vtk.org/ .
Shan, Y., Eastwood, M. P., Zhang, X., Kim, E. T., Arkhipov, A., Dror, R. O., Jumper, J., Kuriyan, J. & Shaw, D. E. (2012). Cell, 149, 860-870.





Smith, T. F. & Waterman, M. S. (1981). J. Mol. Biol. 147, 195-197.





Söding, J. (2005). Bioinformatics, 21, 951-960.


Sukumaran, J. & Holder, M. T. (2010). Bioinformatics, 26, 1569-1571.




Trabuco, L. G., Villa, E., Mitra, K., Frank, J. & Schulten, K. (2008). Structure, 16, 673-683.





Yang, M. H., Nickerson, S., Kim, E. T., Liot, C., Laurent, G., Spang, R., Philips, M. R., Shan, Y., Shaw, D. E., Bar-Sagi, D., Haigis, M. C. & Haigis, K. M. (2012). Proc. Natl Acad. Sci. USA, 109, 10843-10848.




Zemla, A. (2003). Nucleic Acids Res. 31, 3370-3374.





Zhang, Y. & Skolnick, J. (2005). Nucleic Acids Res. 33, 2302-2309.