---

Volume 62
Part 7
Pages o2907-o2909
July 2006
Received 23 May 2006
Accepted 10 June 2006
Online 21 June 2006
Key indicators
Single-crystal X-ray study
T = 120 K
Mean

(C-C) = 0.004 Å
R = 0.058
wR = 0.130
Data-to-parameter ratio = 8.0
Details
2-Amino-4,6-dimethylpyrimidine-4-hydroxybenzoic acid (1/1)

In the title compound, C6H9N3·C7H6O3, the 2-amino-4,6-dimethylpyrimidine and 4-hydroxybenzoic acid molecules link together via N-H

O and O-H

N hydrogen bonds to form an eight-membered R22(8) ring. Further hydrogen bonds and C-H

O interactions result in the formation of a three-dimensional network.
Comment
The crystal structures of various aminopyrimidine carboxylates (Hu et al., 2002

) and cocrystals (Chinnakali et al., 1999

) have been described. From our laboratory, the crystal structures of 2-amino-4,6-dimethylpyrimidinium bromide 2-amino-4,6-dimethylpyrimidine monohydrate (Panneerselvam et al., 2004

) and 2-amino-4,6-dimethylpyrimidine cinnamic acid (1/2) (Balasubramani et al., 2005

) have been reported. In this paper, the hydrogen-bonding patterns in the title compound, (I)

, are described.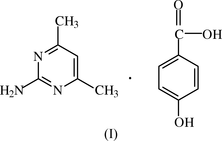 The asymmetric unit of (I)

contains a 2-amino-4,6-dimethylpyrimidine (AMPY) molecule and a 4-hydroxybenzoic (4-HBZ) acid molecule (Fig. 1

). Both species are neutral, thus (I)

is an adduct rather than a molecular salt. Atoms O2 and the -N2H2 group act as hydrogen-bond donors to atoms N1 and O3, respectively, to form an eight-membered ring, which has the graph-set notation R22(8) (Etter, 1990

; Bernstein et al., 1995

). This type of interaction has been observed in the crystal structures of other 2-aminopyrimidine-carboxylic acid adducts (Lynch & Jones, 2004

).
The second H atom of the 2-amino group links to an O2 atom in an adjacent molecule via an N-H

O bond, and one of the C atoms (C11) of 4-HBZ is hydrogen bonded to O3 via a C-H

O interaction to form a ring having graph-set notation R23(8), leading to the supramolecular chain shown in Fig. 2

. Hence, O3 acts as a bifurcated acceptor. The 4-HBZ hydroxy (O1) group is hydrogen bonded to pyrimidine atom N3 via an O-H

N interaction, to form a chain as shown in Fig. 3

.
Aromatic

-

interactions between the pyrimidine ring of AMPY and the benzene ring of 4-HBZ are also observed in (I)

. The perpendicular separation is 3.552 Å, and the centroid-to-centroid distance is 3.660 (9) Å. The slip angle (the angle between the centroid-to-centroid vector and the normal to the plane) is 19.86°. These values are typical for aromatic

-

stacking interactions (Hunter, 1994

).
Experimental
Hot methanol solutions (20 ml) of 2-amino-4,6-dimethylpyrimidine (30 mg, Aldrich) and 4-hydroxybenzoic acid (32 mg, LOBA Chemie, India) were mixed and warmed over a water bath for a few minutes. The resulting solution was allowed to cool slowly at room temperature. Crystals of (I)

appeared from the mother liquor after a few days.
In the absence of significant anomalous scattering effects, Friedel pairs were averaged. All the H atoms were positioned geometrically (C-H = 0.93-0.96 Å, N-H = 0.86 Å and O-H = 0.82 Å) and refined as riding, with Uiso(H) = 1.2Ueq(carrier).
Data collection: DENZO (Otwinowski & Minor, 1997

) and COLLECT (Hooft, 1998

); cell refinement: DENZO and COLLECT; data reduction: DENZO and COLLECT; program(s) used to solve structure: SHELXS97 (Sheldrick, 1997

); program(s) used to refine structure: SHELXL97 (Sheldrick, 1997

); molecular graphics: PLATON (Spek, 2003

) and ORTEPII (Johnson, 1976

); software used to prepare material for publication: PLATON.
Acknowledgements
DL thanks the EPSRC National Crystallography Service (Southampton, England) for the X-ray data collection.
Balasubramani, K., Muthiah, P. T., RajaRam, R. K. & Sridhar, B. (2005). Acta Cryst. E61, o4203-o4205.



Bernstein, J., Davis, R. E., Shimoni, L. & Chang, N.-L. (1995). Angew. Chem. Int. Ed. Engl. 34, 1555-1573.




Blessing, R. H. (1995). Acta Cryst. A51, 33-38.



Chinnakali, K., Fun, H.-K., Goswami, S., Mahapatra, A. K. & Nigam, G. D. (1999). Acta Cryst. C55, 399-401.



Etter, M. C. (1990). Acc. Chem. Res. 23, 120-126.




Hooft, R. (1998). COLLECT. Nonius BV, Delft, The Netherlands.
Hu, M.-L., Ye, M.-D., Zain, S. M. & Ng, S. W. (2002). Acta Cryst. E58, o1005-o1007.



Hunter, C. A. (1994). Chem. Soc. Rev. 23, 101-109.




Johnson, C. K. (1976). ORTEPII. Report ORNL-5138. Oak Ridge National Laboratory, Tennessee, USA.
Lynch, D. E. & Jones, G. D. (2004). Acta Cryst. B60, 748-754.




Otwinowski, Z. & Minor, W. (1997). Methods in Enzymology. Vol. 276, Macromolecular Crystallography, Part A, edited by C. W. Carter Jr & R. M. Sweet, pp. 307-326. New York: Academic Press.
Panneerselvam, P., Muthiah, P. T. & Francis, S. (2004). Acta Cryst. E60, o747-o749.




Sheldrick, G. M. (1997). SHELXS97 and SHELXL97. University of Göttingen, Germany.
Spek, A. L. (2003). J. Appl. Cryst. 36, 7-13.