---

Volume 63
Part 3
Pages m818-m820
March 2007
Received 8 February 2007
Accepted 13 February 2007
Online 21 February 2007
Key indicators
Single-crystal X-ray study
T = 120 K
Mean

(C-C) = 0.005 Å
Disorder in main residue
R = 0.042
wR = 0.142
Data-to-parameter ratio = 20.1
Details
catena-Poly[[bis(O,O'-diethyl dithiophosphato-2S,S')zinc(II)]--1,2-di-4-pyridylethane-2N:N']

aDepartment of Chemistry, The University of Texas at San Antonio, One UTSA Circle, San Antonio, Texas 78249-0698, USA, and bDepartment of Chemistry, University of Aberdeen, Old Aberdeen AB24 3UE, Scotland
Correspondence e-mail: edward.tiekink@utsa.edu
In the zigzag polymeric title compound, [Zn(S2P(OEt)2)2(NC5H4CH)2CH2C5H4N)]n or [Zn(C4H10O2PS2)2(C12H12N2)]n, the Zn atom adopts a distorted tetrahedral ZnN2S2 geometry; the bridging di-4-pyridylethane molecules are each disposed about a centre of inversion.
Comment
Previous work on structures related to the title compound, [Zn(S2P(OR)2)2(NC5H4CH2CH2C5H4N)]n, (I)

, has shown that when R = iPr and Cy (Lai et al., 2004a

), zigzag polymeric chains are found. By contrast, increasing the bulk of R to iBu, results in the formation of a straight chain (Lai et al., 2004b

).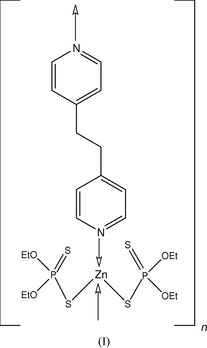 The asymmetric unit in (I)

comprises Zn[S2P(OEt)2]2 and half each of two 1,2-di-4-pyridylethane ligands, as each of these is disposed about an inversion centre. The coordination geometry (Fig. 1

) is distorted tetrahedral, with both dithiophosphate ligands coordinating in the monodentate mode. This is substantiated by the relatively narrow range of tetrahedral angles and the disparity in the P-S bond distances (Table 1

). In keeping with expectation (Chen et al., 2006

), the topology of the polymeric chain formed in (I)

is zigzag (Fig. 2

). Chains are linked via C-H

S interactions (details in Table 2

).


Figure 1
The asymmetric unit of (I), showing the atom-labelling scheme. Only the major component of the disorder is shown. Displacement ellipsoids are drawn at the 35% probability level (arbitrary spheres for the H atoms).


Figure 2
View of the linear polymer in (I). Colour code: Zn brown, S yellow, P pink, O red, N blue, C grey and H green.
Experimental
The title compound was prepared by refluxing the parent zinc dithiophosphate with 1,2-di-4-pyridylethane according to a literature procedure (Lai et al., 2004a

). Colourless crystals of (I)

were isolated by the slow evaporation of an acetonitrile/CHCl3 (1:3) solution (m.p. 389-391 K).
H atoms were positioned geometrically (C-H = 0.95-0.99 Å) and refined as riding, with Uiso(H) = 1.2Ueq(C) or 1.5Ueq(methyl C). Disorder was modelled for the O4 ethyl group in that two positions were resolved for the atoms O4 and C7 [occupancy of the major component = 0.662 (9)] but not for the other atoms of this group. The atoms of the minor component were refined isotropically. The maximum and minimum residual electron-density peaks are located 0.96 and 0.78 Å, respectively, from atoms C14 and S4.
Data collection: COLLECT (Hooft, 1998

); cell refinement: DENZO (Otwinowski & Minor, 1997

) and COLLECT; data reduction: DENZO and COLLECT; program(s) used to solve structure: PATTY in DIRDIF92 (Beurskens et al., 1992

); program(s) used to refine structure: SHELXL97 (Sheldrick, 1997

); molecular graphics: DIAMOND (Brandenburg, 2006

) and ORTEPII (Johnson, 1976

); software used to prepare material for publication: SHELXL97.
Acknowledgements
This work was supported by the departmental research grant AX-0026 from The Robert A. Welch Foundation. Cheminova is thanked for the gift of the dithiophosphate ligand used in this study. The authors also thank the EPSRC X-ray Crystallographic Service, University of Southampton for the data collection.
Beurskens, P. T., Admiraal, G., Beurskens, G., Bosman, W. P., Garcia-Granda, S., Gould, R. O., Smits, J. M. M. & Smykalla, C. (1992). The DIRDIF Program System. Technical Report. Crystallography Laboratory, University of Nijmegen, The Netherlands.
Brandenburg, K. (2006). DIAMOND. Release 3.1. Crystal Impact GbR, Bonn, Germany.
Chen, D., Lai, C. S. & Tiekink, E. R. T. (2006). CrystEngComm, 8, 51-58.





Hooft, R. W. W. (1998). COLLECT. Nonius BV, Delft, The Netherlands.
Johnson, C. K. (1976). ORTEPII. Report ORNL-5138. Oak Ridge National Laboratory, Tennessee, USA.
Lai, C. S., Liu, S. & Tiekink, E. R. T. (2004a). CrystEngComm, 6, 221-226.



Lai, C. S., Liu, S. & Tiekink, E. R. T. (2004b). Acta Cryst. E60, m1005-m1007.



Otwinowski, Z. & Minor, W. (1997). Methods in Enzymology, Vol. 276, Macromolecular Crystallography, Part A, edited by C. W. Carter Jr & R. M. Sweet, pp. 307-326. New York: Academic Press.
Sheldrick, G. M. (1997). SHELXL97. University of Göttingen, Germany.
Sheldrick, G. M. (2003). SADABS. Version 2.10. Bruker AXS Inc., Madison, Wisconsin, USA.