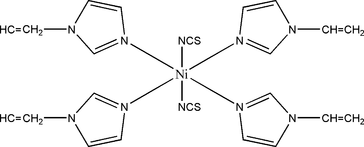 Acta Cryst. (2007). E63, m2369 [ doi:10.1107/S1600536807039888 ]
Bis(thiocyanato-N)tetrakis(1-vinyl-1H-imidazole-N3)nickel(II)
Abstract: The title compound, [Ni(NCS)2(C5H6N2)4], crystallizes with two independent half-molecules in the asymmetric unit; each Ni atom lies on a centre of symmetry. In both independent molecules, each NiII ion displays a compressed octahedral coordination geometry, with six N atoms from two thiocyanate anions and four 1-vinylimidazole ligands building the NiN6 chromophore. In the crystal structure,

-

stacking interactions [centroid-to-centroid distance = 4.685 (3) Å] link the two independent molecules into a one-dimensional chain running along the a axis. Intermolecular C-H

S hydrogen bonds further stabilize the crystal structure.
---
Copyright © International Union of Crystallography
IUCr Webmaster