---

Volume 64
Part 3
Page o566
March 2008
Received 1 December 2007
Accepted 14 January 2008
Online 6 February 2008
Key indicators
Single-crystal X-ray study
T = 296 K
Mean

(C-C) = 0.002 Å
R = 0.038
wR = 0.122
Data-to-parameter ratio = 12.7
Details

2-Acetamido-3-(4-hydroxy-3-methoxyphenyl)acrylic acid

aSchool of Chemistry and Biotechnology, Yunnan Nationalities University, Kunming 650031, People's Republic of China, and bEngineering and Research Center of Chinese Herb Modernization, Northwest University, Xi'an 710069, People's Republic of China
Correspondence e-mail: zhengxh@nwu.edu.cn
In the title compound, C12H13NO5, the azlactone of vanillin, the acrylic acid side chain has a trans extended conformation. There are intermolecular N-H

O and O-H

O hydrogen bonds in the crystal structure.
Related literature
For a related structure, see: Haasbroek et al. (1998

). For information on the synthesis, see: Wong et al. (1992

).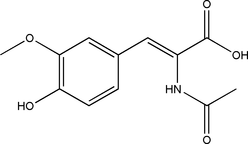 Experimental
Data collection: SMART (Bruker, 1997

); cell refinement: SAINT (Bruker, 1997

); data reduction: SAINT; program(s) used to solve structure: SHELXS97 (Sheldrick, 2008

); program(s) used to refine structure: SHELXL97 (Sheldrick, 2008

); molecular graphics: SHELXTL (Sheldrick, 2008

); software used to prepare material for publication: SHELXTL.
---
Supplementary data and figures for this paper are available from the IUCr electronic archives (Reference: CF2176 ).
---
Acknowledgements
The authors thank the Ministry of Science and Technology of Shaanxi Province and the Ministry of Education of the People's Republic of China for financial support (grant Nos. 2006kz10-G5, 2007ZDKG-70 and 207151).
Bruker (1997). SMART and SAINT. Bruker AXS Inc., Madison, Wisconsin, USA.
Haasbroek, P. P., Oliver, D. W. & Carpy, A. J. M. (1998). J. Chem. Crystallogr. 28, 193-196.



Sheldrick, G. M. (2008). Acta Cryst. A64, 112-122.



Wong, H. N. C., Xu, Z. L., Chang, H. M. & Lee, C. M. (1992). Synthesis, pp. 793-797.