---

Volume 64
Part 5
Page o833
May 2008
Received 25 March 2008
Accepted 7 April 2008
Online 10 April 2008
Key indicators
Single-crystal X-ray study
T = 298 K
Mean

(C-C) = 0.003 Å
R = 0.042
wR = 0.113
Data-to-parameter ratio = 14.2
Details

2-Methyl-N-[(3-methyl-2-pyridyl)carbamothioyl]benzamide

aSchool of Chemical Sciences and Food Technology, Universiti Kebangsaan Malaysia, UKM 43500 Bangi Selangor, Malaysia,bHEJ Research Institute of Chemistry, International Center for Chemical and Biological Sciences, University of Karachi, Karachi 75270, Pakistan, and cDepartment of Chemistry, Universiti Malaysia Terengganu, Manngabang Telipot, Terengganu, Malaysia
Correspondence e-mail: sammer_yousuf@yahoo.com
In the title compound, C15H15N3OS, the thiourea group is stabilized by an intramolecular hydrogen bond between the carbonyl O atom and the thioamide group. A C-H

N intramolecular hydrogen bond is also present. Molecules are linked by intermolecular N-H

O and C-H

S hydrogen bonds.
Related literature
For the crystal structure of N-(3-iodophenyl)-N'-(2-methylbenzoyl)thiourea, see: Yusof et al. (2007

). For bond-length data, see: Allen et al. (1987

).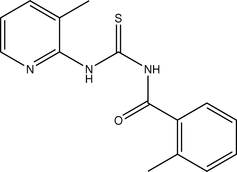 Experimental
Data collection: SMART (Bruker, 2000

); cell refinement: SAINT (Bruker, 2000

); data reduction: SAINT; program(s) used to solve structure: SHELXS97 (Sheldrick, 2008

); program(s) used to refine structure: SHELXL97 (Sheldrick, 2008

); molecular graphics: SHELXTL (Sheldrick, 2008

); software used to prepare material for publication: SHELXTL, PARST (Nardelli, 1995

) and PLATON (Spek, 2003

).
---
Supplementary data and figures for this paper are available from the IUCr electronic archives (Reference: SG2229 ).
---
Acknowledgements
The authors thank the Ministry of Higher Education of Malaysia for Fundamental Research Grants UKM-ST-01-FRGS-0003-2006 and UMT-FRGS-59001, and Universiti Kebangsaan Malaysia and HEJ Research Institute of Chemistry, University of Karachi, for research facilities.
Allen, F. H., Kennard, O., Watson, D. G., Brammer, L., Orpen, A. G. & Taylor, R. (1987). J. Chem. Soc. Perkin Trans. 2, pp. S1-19.
Bruker (2000). SADABS, SMART and SAINT. Bruker AXS Inc., Madison, Wisconsin, USA.
Nardelli, M. (1995). J. Appl. Cryst. 28, 659.



Sheldrick, G. M. (2008). Acta Cryst. A64, 112-122.



Spek, A. L. (2003). J. Appl. Cryst. 36, 7-13.



Yusof, M. S. M., Ahmad Mushtari, N. & Yamin, B. M. (2007). Acta Cryst. E63, o4709.