---

Volume 64
Part 8
Pages m1053-m1054
August 2008
Received 26 June 2008
Accepted 18 July 2008
Online 23 July 2008
Key indicators
Single-crystal X-ray study
T = 173 K
Mean

(C-C) = 0.003 Å
R = 0.024
wR = 0.064
Data-to-parameter ratio = 19.8
Details

Di--chlorido-bis[dichlorido(3,3',5,5'-tetramethyl-4,4'-bipyrazol-1-ium-N2')copper(II)] dihydrate

The structure of the centrosymmetric title compound, [Cu2Cl6(C10H15N4)2]·2H2O, consists of a dimeric [{(HMe4bpz)CuCl3}2] unit (HMe4bpz is 3,3',5,5'-tetramethyl-4,4'-bipyrazol-1-ium) with two solvent water molecules. Each [HMe4bpz]+ cation is bonded to a CuCl3 unit through a Cu-N dative bond, effectively making square-planar geometry at the Cu atom. Two of these units then undergo a face-to-face dimerization so that the Cu atoms have a Jahn-Teller distorted square-pyramidal geometry with three chlorides and an N atom in the basal plane and one chloride weakly bound in the apical position. Several N-H

Cl, O-H

Cl and N-H

O hydrogen bonds form a three-dimensional network.
Related literature
We have been unable to find any references in the literature to any other compound containing a monoprotonated 3,3',5,5'- tetramethylbipyrazole ligand coordinated only to one metal atom through a single nitrogen donor, but Komarchuk et al. (2004

) reported a compound containing two unprotonated tetramethylbipyrazole ligands acting as ligands to a single copper atom. For an exploration of N-H

Cl interactions in the design and synthesis of crystal structures with desired properties such as unit-cell metrics or defined reactivity, see: Adams et al. (2005

).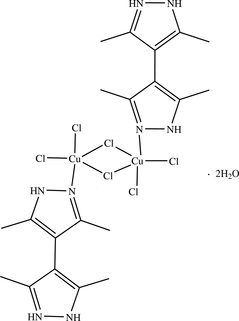 Experimental
Data collection: SMART (Bruker, 2001

); cell refinement: SAINT (Bruker, 2001

); data reduction: SAINT; program(s) used to solve structure: SHELXS97 (Sheldrick, 2008b

); program(s) used to refine structure: SHELXL97 (Sheldrick, 2008b

); molecular graphics: SHELXTL (Sheldrick, 2008b

); software used to prepare material for publication: SHELXTL.
---
Supplementary data and figures for this paper are available from the IUCr electronic archives (Reference: RN2046 ).
---
Acknowledgements
MAK thanks Bayero University, Kano, Nigeria for funding.
Adams, C. J., Crawford, P. C., Orpen, A. G., Podesta, T. J. & Salt, B. (2005). Chem. Commun. pp. 2457-2458.


Bruker (2001). SMART and SAINT. Bruker AXS Inc., Madison, Wisconsin, USA.
Komarchuk, V. V., Ponomarova, V. V., Krautscheid, H. & Domasevitch, K. V. (2004). Z. Anorg. Allg. Chem. 630, 1413-1418.



Sheldrick, G. M. (2008a). SADABS. University of Göttingen, Germany.
Sheldrick, G. M. (2008b). Acta Cryst. A64, 112-122.