---

Volume 64
Part 11
Page m1374
November 2008
Received 20 September 2008
Accepted 26 September 2008
Online 9 October 2008
Key indicators
Single-crystal X-ray study
T = 298 K
Mean

(C-C) = 0.003 Å
R = 0.029
wR = 0.078
Data-to-parameter ratio = 16.5
Details

Dichlorido(2,6-dipyrazol-1-ylpyridine)zinc(II)

In the title complex, [ZnCl2(C11H9N5)], the ZnII ion assumes a distorted trigonal-bipyramidal ZnN3Cl2 coordination geometry [Zn-N = 2.1397 (16)-2.2117 (17) Å, Zn-Cl = 2.2470 (6) and 2.2564 (6) Å]. The crystal packing exhibits

-

stacking interactions between the 2,6-dipyrazol-1-ylpyridine ligands of neighbouring molecules.
Related literature
For the related crystal structure of dichlorido[2,6-bis(pyrazolylmethyl)pyridine]zinc(II), see Balamurugan et al. (2004

).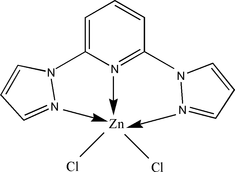 Experimental
Data collection: SMART (Bruker, 1997

); cell refinement: SAINT (Bruker, 1997

); data reduction: SAINT; program(s) used to solve structure: SHELXTL (Sheldrick, 2008

); program(s) used to refine structure: SHELXTL; molecular graphics: SHELXTL; software used to prepare material for publication: SHELXTL and local programs.
---
Supplementary data and figures for this paper are available from the IUCr electronic archives (Reference: CV2454 ).
---
Acknowledgements
This work was supported by the Doctor's Foundation of Binzhou University.
---
Acta Cryst (2008). E64, m1374 [ doi:10.1107/S1600536808031152 ]