Related literature
For discussions of the biological activity of the title compound, see: Bakker et al. (2000

); Bielory & Ghafoor (2005

); Schmutz et al. (1967

). For a similar structure, see: Li et al. (2006

).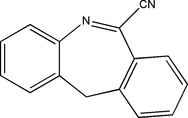 Experimental
Data collection: SMART (Bruker, 2001

); cell refinement: SAINT (Bruker, 2001

); data reduction: SAINT; program(s) used to solve structure: SHELXTL (Sheldrick, 2008

); program(s) used to refine structure: SHELXTL; molecular graphics: SHELXTL; software used to prepare material for publication: SHELXTL.
---
Supplementary data and figures for this paper are available from the IUCr electronic archives (Reference: SG2271 ).
---
Bakker, R. A., Wieland, K., Timmerman, H. & Leurs, R. (2000). Eur. J. Pharmacol. 387, R5-R7.




Bielory, L. & Ghafoor, S. (2005). Curr. Opin. Allergy Clin. Immunol. 5, 437-440.



Bruker (2001). SMART and SAINT. Bruker AXS Inc., Madison, Wisconsin.
Li, Q.-B., Yang, W.-C., Han, Y.-J. & Zhao, X.-J. (2006). Acta Cryst. E62, o3021-o3022.




Schmutz, J., Hunziker, F. & Kunzle, F. (1967). Helv. Chim. Acta, 50, 245-248.



Sheldrick, G. M. (1996). SADABS. University of Göttingen, Germany.
Sheldrick, G. M. (2008). Acta Cryst. A64, 112-122.