---

Volume 64
Part 12
Page m1486
December 2008
Received 3 October 2008
Accepted 19 October 2008
Online 8 November 2008
Key indicators
Single-crystal X-ray study
T = 296 K
Mean

(C-C) = 0.002 Å
R = 0.027
wR = 0.080
Data-to-parameter ratio = 17.4
Details

Bis{2-[(E)-benzyliminomethyl]-4-methylphenolato-2N,O}cobalt(II)

In the title complex, [Co(C15H14NO)2], the CoII atom, situated on an inversion centre, is coordinated by two O and two N atoms from two symmetry-related bidentate Schiff base ligands in a slightly distorted square-planar geometry. The two phenolate rings form a dihedral angle of 10.53 (2)°.
Related literature
For background on complexes of Schiff bases with transition metals, see: Rodriguez Barbarin et al. (1994

).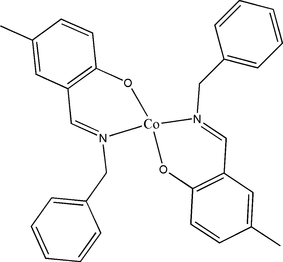 Experimental
Data collection: APEX2 (Bruker, 2004

); cell refinement: SAINT (Bruker, 2004

); data reduction: SAINT; program(s) used to solve structure: SHELXS97 (Sheldrick, 2008

); program(s) used to refine structure: SHELXL97 (Sheldrick, 2008

); molecular graphics: XP in SHELXTL (Sheldrick, 2008

); software used to prepare material for publication: XP in SHELXTL.
---
Supplementary data and figures for this paper are available from the IUCr electronic archives (Reference: GW2053 ).
---
Acknowledgements
We are grateful to the Starting Fund for the Doctoral Program of Xi'an University of Architecture and Technology (grant No. RC0737) for financial support.
---
Acta Cryst (2008). E64, m1486 [ doi:10.1107/S1600536808034144 ]