---

Volume 64
Part 12
Page o2411
December 2008
Received 24 October 2008
Accepted 15 November 2008
Online 22 November 2008
Key indicators
Single-crystal X-ray study
T = 298 K
Mean

(C-C) = 0.002 Å
R = 0.035
wR = 0.096
Data-to-parameter ratio = 10.0
Details

Bis[5-oxo-4,5-dihydro-8H-2-azonia-4,8,9-trizabicyclo[4.3.0]nona-2,6,9(1)-triene] sulfate

aBirla Institute of Technology, Department of Pharmaceutical Sciences, Mesra, Ranchi 835 215, India, and bGVK Biosciences Private Limited, S-1, Phase-1 Technocrats Industrial Estate, Balanagar, Hyderabad 500 037, India
Correspondence e-mail: sarma@gvkbio.com
In the crystal structure of the title compound, 2C5H5N4O+·SO42-, N-H

O hydrogen bonds assemble the molecules into a two-dimensional network structure parallel to the cb plane. The S atom of the sulfate ion lies on a special position on a twofold axis.
Related literature
For general background, see: Elion et al. (1962

); Rundles et al. (1966

). For related structures, see: Prusiner & Sundaralingam (1972

); Gadret et al. (1974

); Sheldrick & Bell (1987

); Singh & Pedersen (1993

).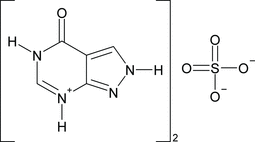 Experimental
Data collection: SMART (Bruker, 1997

); cell refinement: SAINT (Bruker, 1997

); data reduction: SAINT; program(s) used to solve structure: SHELXS97 (Sheldrick, 2008

); program(s) used to refine structure: SHELXL97 (Sheldrick, 2008

); molecular graphics: SHELXTL (Sheldrick, 2008

); software used to prepare material for publication: SHELXTL.
---
Supplementary data and figures for this paper are available from the IUCr electronic archives (Reference: GW2054 ).
---
Acknowledgements
NVR thanks Birla Institute of Technology for financial support. NVR also thanks Prashant M. Bhatt and Professor Gautam R. Desiraju, University of Hyderabad, for help in X-ray diffraction, and Matrix Labs Ltd, Hyderabad, for a gift sample of allopurinol.
Bruker (1997). SMART and SAINT. Bruker AXS Inc., Madison, Wisconsin, USA.
Elion, E. B., Callahan, S. W., Hitchings, G. H., Rundles, R. W. & Laszlo, J. (1962). Cancer Chemother. Rep. 16, 197-202.



Gadret, M., Goursolle, M. & Leger, J. M. (1974). Acta Cryst. B30, 1598-1602.




Prusiner, P. & Sundaralingam, M. (1972). Acta Cryst. B28, 2148-2152.





Rundles, R. W., Metz, E. N. & Silberman, H. R. (1966). Ann. Intern. Med. 64, 229-258.



Sheldrick, G. M. (2008). Acta Cryst. A64, 112-122.



Sheldrick, W. S. & Bell, P. (1987). Inorg. Chim. Acta, 137, 181-188.




Singh, P. & Pedersen, L. G. (1993). Acta Cryst. C49, 1211-1215.