---

Volume 64
Part 12
Page m1514
December 2008
Received 13 October 2008
Accepted 1 November 2008
Online 8 November 2008
Key indicators
Single-crystal X-ray study
T = 294 K
Mean

(C-C) = 0.011 Å
Disorder in solvent or counterion
R = 0.064
wR = 0.212
Data-to-parameter ratio = 14.9
Details

Tris(1,10-phenanthroline-2N,N')iron(II) -oxido-bis[trichloridoferrate(III)] ethanol hemisolvate

The title compound, [Fe(C12H8N2)3][Fe2Cl6O]·0.5CH3CH2OH, consists of one [Fe(phen)3]2+ cation (phen = 1,10-phenanthroline), one [Fe2Cl6O]2- anion and one half-molecule of ethanol. In the cation, the FeII atom is coordinated by six N atoms from three phen ligands in a distorted octahedral geometry. In the bent anion, two FeIII atoms are connected by a bridging oxide O atom [bridging angle = 160.6 (4)°], and each FeIII atom is also coordinated by three Cl atoms, completing a distorted tetrahedral geometry.
Related literature
For general background, see: Hwang & Ha (2006

); Potocnák et al. (2002

); Zhou & Guo (2007

). For a related structure, see: Aparici Plaza et al. (2007

).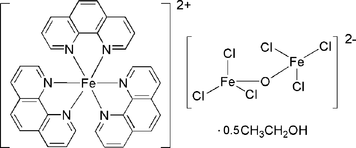 Experimental
Data collection: SMART (Bruker, 2007

); cell refinement: SAINT (Bruker, 2007

); data reduction: SAINT; program(s) used to solve structure: SHELXTL (Sheldrick, 2008

); program(s) used to refine structure: SHELXTL; molecular graphics: SHELXTL; software used to prepare material for publication: SHELXTL.
---
Supplementary data and figures for this paper are available from the IUCr electronic archives (Reference: HY2160 ).
---
This work was supported by the Natural Science Foundation of China (grant No. 50873093).
Aparici Plaza, L., Baranowska, K. & Becker, B. (2007). Acta Cryst. E63, m1537-m1539.




Bruker (2007). SMART and SAINT. Bruker AXS Inc., Madison, Wisconsin, USA.
Hwang, I.-C. & Ha, K. (2006). Acta Cryst. E62, m376-m378.



Potocnák, I., Pohlová, M., Wagner, C. & Jäger, L. (2002). Acta Cryst. E58, m595-m596.




Sheldrick, G. M. (1996). SADABS. University of Göttingen, Germany.
Sheldrick, G. M. (2008). Acta Cryst. A64, 112-122.



Zhou, D.-P. & Guo, G.-L. (2007). Acta Cryst. E63, m1122-m1124.