Related literature
For applications of metal complexes of 2,2'-bipyridine and its derivatives, see: Kuang et al. (2006

). For cadmium complexes, see: Kundu et al. (2005

); Ranjbar et al. (2007

); Shi et al. (2006

); Zheng et al. (2005

).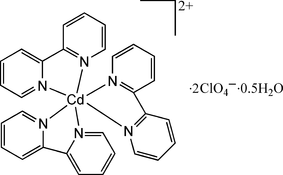 Experimental
Data collection: SMART (Bruker, 2000

); cell refinement: SAINT (Bruker, 2000

); data reduction: SAINT; program(s) used to solve structure: SHELXS97 (Sheldrick, 2008

); program(s) used to refine structure: SHELXL97 (Sheldrick, 2008

); molecular graphics: SHELXTL (Sheldrick, 2008

); software used to prepare material for publication: SHELXTL.
---
Supplementary data and figures for this paper are available from the IUCr electronic archives (Reference: HG2440 ).
---
This work was supported financially by the National Natural Science Foundation of China (grant No. 50572039) and the Natural Science Foundation of Jiangsu Province (BK2006199).
Bruker (2000). SMART, SAINT and SADABS. Bruker AXS Inc., Madison, Wisconsin, USA.
Kuang, D., Klein, C., Snaith, H. J., Moser, J.-E., Humphry-Baker, R., Comte, P., Zakeeruddin, S. M. & Gratzel, M. (2006). Nano Lett. 6, 769-773.





Kundu, N., Mandal, D., Chaudhury, M. & Tiekink, E. R. T. (2005). Appl. Organomet. Chem. 19, 1268-1270.





Ranjbar, Z. R., Morsali, A. & Zhu, L.-G. (2007). J. Coord. Chem. 6, 667-676.




Sheldrick, G. M. (2008). Acta Cryst. A64, 112-122.



Shi, J.-M., Chen, J.-N. & Liu, L.-D. (2006). Acta Cryst. E62, m2094-m2095.




Zheng, S.-T., Zhang, J., Xu, J.-Q. & Yang, G.-Y. (2005). J. Solid State Chem. 178, 3740-3746.