---

Volume 65
Part 2
Page m150
February 2009
Received 29 September 2008
Accepted 25 December 2008
Online 8 January 2009
Key indicators
Single-crystal X-ray study
T = 293 K
Mean

(C-C) = 0.009 Å
Disorder in main residue
R = 0.034
wR = 0.078
Data-to-parameter ratio = 12.8
Details

RETRACTED ARTICLE
This article has been retracted. To view the retraction notice, click
here
Tetrakis(-2,4-difluorobenzoato)bis[(2,2'-bipyridine)(2,4-difluorobenzoato)terbium(III)]

aCollege of Food and Biological Engineering, Shandong Institute of Light Industry, Jinan 250353, People's Republic of China, and bMaize Research Institute, Shandong Academy of Agricultural Science, Jinan 250100, People's Republic of China
Correspondence e-mail: lujianghao001@yahoo.com.cn
In the centrosymmetric dinuclear title compound, [Tb2(C7H3F2O2)6(C10H8N2)2], the TbIII ion is coordinated by an N,N'-bidentate 2,2'-bipyridine molecule, and two O,O'-bidentate 2,4-difluorobenzoate (dfb) anions. One of the latter also bonds to the second TbIII centre through one of its O atoms. The third dfb anion bonds to one Tb atom from each of its O atoms. Thus, the three dfb species have three different coordination modes. This results in an irregular TbN2O7 coordination sphere for the metal ion. The F atoms and their associated H atoms in the simple bidentate dfb anion are disordered over two sets of sites in a 0.672 (10):0.328 (10) ratio.
Related literature
For related literature on the biological applications of carboxylates as ligands, see, for example: Serre et al. (2005

).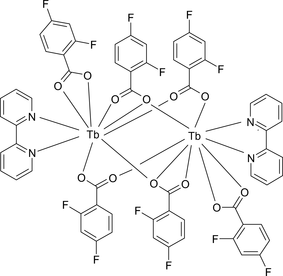 Experimental
Data collection: APEX2 (Bruker, 2004

); cell refinement: SAINT-Plus (Bruker, 2001

); data reduction: SAINT-Plus; program(s) used to solve structure: SHELXS97 (Sheldrick, 2008

); program(s) used to refine structure: SHELXL97 (Sheldrick, 2008

); molecular graphics: SHELXTL (Sheldrick, 2008

); software used to prepare material for publication: SHELXTL.
---
Supplementary data and figures for this paper are available from the IUCr electronic archives (Reference: HB2812 ).
---
Acknowledgements
This work was supported by the Natural Science Foundation of Shandong Province (grant No. Y2007D39).
---
Acta Cryst (2009). E65, m150 [ doi:10.1107/S1600536808043936 ]