---

Volume 65
Part 2
Page m238
February 2009
Received 20 January 2009
Accepted 23 January 2009
Online 28 January 2009
Key indicators
Single-crystal X-ray study
T = 100 K
Mean

(C-C) = 0.005 Å
R = 0.026
wR = 0.074
Data-to-parameter ratio = 19.7
Details

Low-temperature redetermination of tribenzylchloridotin(IV)

Compared to the previous studies [Ng (1997

). Acta Cryst. C53, 56-58; Yin et al. (2005

). Huaxue Shiji, 27, 295-296], the redetermined structure of the title compound, [Sn(C7H7)3Cl], exhibits a doubled c unit-cell parameter. There are two molecules in the asymmetric unit, with both Sn and both Cl atoms having 3 site symmetry. The Sn atoms have distorted SnClC3 tetrahedral geometries and the molecules interact by way of short Sn

Cl bridges [Sn

Cl = 3.418 (2) and 3.475 (2) Å], thereby forming chains propagating in c.
Related literature
For the room-temperature structure of the title compound described in the R3 space group but with the unique c axis half as long, see: Ng (1997

); Yin et al. (2005

). For the direct synthesis of the title compound from metallic tin and benzyl chloride, see: Sisido et al. (1961

).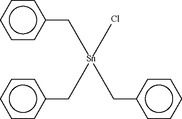 Experimental
Data collection: APEX2 (Bruker, 2007

); cell refinement: SAINT (Bruker, 2007

); data reduction: SAINT; program(s) used to solve structure: SHELXS97 (Sheldrick, 2008

); program(s) used to refine structure: SHELXL97 (Sheldrick, 2008

); molecular graphics: X-SEED (Barbour, 2001

); software used to prepare material for publication: publCIF (Westrip, 2009

).
---
Supplementary data and figures for this paper are available from the IUCr electronic archives (Reference: HB2901 ).
---
The author thanks the University of Malaya for supporting this study.
Barbour, L. J. (2001). J. Supramol. Chem. 1, 189-191.



Bruker (2007). APEX2 and SAINT. Bruker AXS Inc., Madison, Wisconsin, USA.
Flack, H. D. (1983). Acta Cryst. A39, 876-881.



Ng, S. W. (1997). Acta Cryst. C53, 56-58.



Sheldrick, G. M. (1996). SADABS. University of Göttingen, Germany.
Sheldrick, G. M. (2008). Acta Cryst. A64, 112-122.



Sisido, K., Takeda, Y. & Kinugawa, Z. (1961). J. Am. Chem. Soc. 83, 538-541.



Westrip, S. P. (2009). publCIF. In preparation.
Yin, H.-D., Li, K.-Z. & Hong, M. (2005). Huaxue Shiji, 27, 295-296, 310.