---

Volume 65
Part 2
Page o382
February 2009
Received 10 January 2009
Accepted 21 January 2009
Online 23 January 2009
Key indicators
Single-crystal X-ray study
T = 100 K
Mean

(C-C) = 0.001 Å
R = 0.039
wR = 0.113
Data-to-parameter ratio = 30.0
Details

N-Cycloheptylidene-N'-(2,4-dinitrophenyl)hydrazine

aX-ray Crystallography Unit, School of Physics, Universiti Sains Malaysia, 11800 USM, Penang, Malaysia, and bDepartment of Chemistry, School of Science, Payame Noor University (PNU), Ardakan, Yazd, Iran
Correspondence e-mail: hkfun@usm.my
The title compound, C13H16N4O4, is a new hydrazone. An intramolecular N-H

O hydrogen bond generates a six-membered ring, producing an S(6) ring motif. The nitro groups in the ortho and para positions are almost coplanar with the benzene ring to which they are bound, making dihedral angles of 0.60 (11) and 3.18 (11)°, respectively. Pairs of intermolecular C-H

O hydrogen bonds link neighbouring molecules into inversion dimers with R22(10) motifs. The crystal structure is further stabilized by intermolecular

-

interactions, with a benzene centroid-to-centroid distance of 3.6601 (4) Å.
Related literature
For details of hydrogen-bond motifs, see: Bernstein et al. (1995

). For related literature on the applications of hydrazone, see, for example: Niknam et al., (2005

); Guillaumont & Nakamura (2000

); Raj & Kurup (2006

); Okabe et al. (1993

).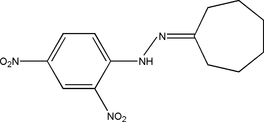 Experimental
Data collection: APEX2 (Bruker, 2005

); cell refinement: SAINT (Bruker, 2005

); data reduction: SAINT; program(s) used to solve structure: SHELXTL (Sheldrick, 2008

); program(s) used to refine structure: SHELXTL; molecular graphics: SHELXTL; software used to prepare material for publication: SHELXTL and PLATON (Spek, 2003

).
---
Supplementary data and figures for this paper are available from the IUCr electronic archives (Reference: KJ2114 ).
---
HKF and RK thank the Malaysian Government and Universiti Sains Malaysia for Science Fund grant No. 305/PFIZIK/613312. RK thanks Universiti Sains Malaysia for a postdoctoral research fellowship. HK thanks PNU for financial support. HKF also thanks Universiti Sains Malaysia for Research University Golden Goose grant No. 1001/PFIZIK/811012.
Bernstein, J., Davis, R. E., Shimoni, L. & Chang, N.-L. (1995). Angew. Chem. Int. Ed. Engl. 34, 1555-1573.




Bruker (2005). APEX2, SAINT and SADABS. Bruker AXS Inc., Madison, Wisconsin, USA.
Guillaumont, D. & Nakamura, S. (2000). Dyes Pigm. 46, 85-92.



Niknam, K., Kiasat, A. R. & Karimi, S. (2005). Synth. Commun. 35, 2231-2236.




Okabe, N., Nakamura, T. & Fukuda, H. (1993). Acta Cryst. C49, 1678-1680.



Raj, B. N. B. & Kurup, M. R. P. (2006). Spectrochim. Acta Part A, 66, 898-903.
Sheldrick, G. M. (2008). Acta Cryst. A64, 112-122.



Spek, A. L. (2003). J. Appl. Cryst. 36, 7-13.