---

Volume 65
Part 2
Page o278
February 2009
Received 11 December 2008
Accepted 25 December 2008
Online 10 January 2009
Key indicators
Single-crystal X-ray study
T = 296 K
Mean

(C-C) = 0.005 Å
Disorder in main residue
R = 0.066
wR = 0.205
Data-to-parameter ratio = 15.7
Details

Hemi(4,4'-bipyridinium) hexafluoridophosphate bis(4-aminobenzoic acid) 4,4'-bipyridine monohydrate

aSchool of Chemistry and Environment, South China Normal University, Guangzhou 510006, People's Republic of China, and bKey Laboratory of Electrochemical Technology on Energy Storage and Power Generation in Guangdong Universities, Guangzhou 510631, People's Republic of China
Correspondence e-mail: zrh321@yahoo.com.cn
In the title compound, 0.5C10H10N22+·PF6-·C10H8N2·2C7H7NO2·H2O, the cation is located on a center of symmetry. The crystal structure is determined by a complex three-dimensional network of intermolecular O-H

O, O-H

N, N-H

N and N-H

F hydrogen bonds.

-

stacking interactions between neighboring pyridyl rings are also present; the centroid-centroid distance is 3.643 (5) Å. The hexafluoridophosphate anion is disordered over two positions with site-occupancy factors of ca 0.6 and 0.4.
Related literature
For the use of 4-aminobenzoic acid and 4,4'-bipyridine for the construction of three-dimensional network motifs, see: Hu et al. (2003

); Yang et al. (2004

).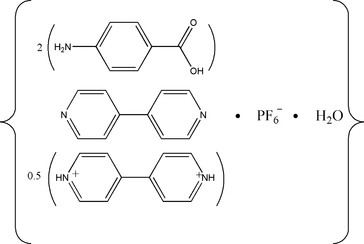 Experimental
Data collection: APEX2 (Bruker, 2004

); cell refinement: APEX2 and SAINT (Bruker, 2004

); data reduction: SAINT; program(s) used to solve structure: SHELXS97 (Sheldrick, 2008

); program(s) used to refine structure: SHELXL97 (Sheldrick, 2008

); molecular graphics: SHELXTL (Sheldrick, 2008

); software used to prepare material for publication: SHELXL97.
---
Supplementary data and figures for this paper are available from the IUCr electronic archives (Reference: WN2299 ).
---
Acknowledgements
The authors acknowledge South China Normal University for supporting this work.
---
Acta Cryst (2009). E65, o278 [ doi:10.1107/S1600536808043900 ]