---

Volume 65
Part 3
Page m274
March 2009
Received 2 February 2009
Accepted 6 February 2009
Online 13 February 2009
Key indicators
Single-crystal X-ray study
T = 173 K
Mean

(C-C) = 0.007 Å
R = 0.041
wR = 0.084
Data-to-parameter ratio = 17.8
Details

Bis(perchlorato-O)tetrakis[1-(2-pyridyl)-4-(4-pyridylmethyl-N)piperazine]cadmium(II)

In the title compound, [Cd(ClO4)2(C15H18N4)4], the CdII ion is coordinated in a slightly distorted octahedral environment by two trans monodentate perchlorate ligands and four 1-(2-pyridyl)-4-(4-pyridylmethyl)piperazine (pmpp) ligands. In the crystal structure, molecules are organized into layers parallel to the ab plane by C-H

O interactions. Similar interactions promote the stacking of these layers into the three-dimensional crystal structure.
Related literature
For a silver nitrate supramolecular complex and the synthesis of pmpp, see: Farnum et al. (2009

).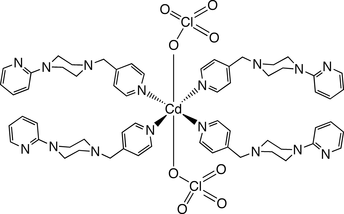 Experimental
Data collection: SMART (Bruker, 2006

); cell refinement: SAINT-Plus (Bruker, 2006

); data reduction: SAINT-Plus; program(s) used to solve structure: SHELXS97 (Sheldrick, 2008

); program(s) used to refine structure: SHELXL97 (Sheldrick, 2008

); molecular graphics: CrystalMaker (Palmer, 2007

); software used to prepare material for publication: SHELXL97.
---
Supplementary data and figures for this paper are available from the IUCr electronic archives (Reference: LH2771 ).
---
Acknowledgements
The authors gratefully acknowledge the donors of the American Chemical Society Petroleum Research Fund for funding this work.
Bruker (2006). SMART and SAINT-Plus. Bruker AXS Inc., Madison, Wisconsin, USA.
Farnum, G. A., Knapp, W. R. & LaDuca, R. L. (2009). Polyhedron, 28, 291-299.




Flack, H. D. (1983). Acta Cryst. A39, 876-881.



Palmer, D. (2007). CrystalMaker. CrystalMaker Software Ltd, Bicester, Oxfordshire, England.
Sheldrick, G. M. (2007). SADABS. University of Göttingen, Germany.
Sheldrick, G. M. (2008). Acta Cryst. A64, 112-122.