Related literature
For the structural diversity and potential applications of transition metal complexes, see: Noro et al. (2000

); Yaghi et al. (1998

). For dialkyldithiocarbamates anions acting as monodentate, bidentate or bridging ligands, see: Engelhardt et al. (1988

); Fernández et al. (2000

); Koh et al. (2003

).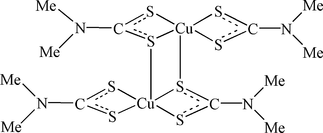 Experimental
Data collection: CrystalClear (Rigaku, 2007

); cell refinement: CrystalClear; data reduction: CrystalClear; program(s) used to solve structure: SHELXS97 (Sheldrick, 2008

); program(s) used to refine structure: SHELXL97 (Sheldrick, 2008

); molecular graphics: SHELXTL (Sheldrick, 2008

); software used to prepare material for publication: SHELXTL.
---
Supplementary data and figures for this paper are available from the IUCr electronic archives (Reference: NG2548 ).
---
This work was supported financially by the Research Fund of Huaqiao University (No. 06BS216) and the Young Talent Fund of Fujian Province (No. 2007 F3060).
Engelhardt, L. M., Healy, P. C., Shephard, R. M., Skelton, B. W. & White, A. H. (1988). Inorg. Chem. 27, 2371-2373.




Fernández, E. J., López-de-Luzuriaga, J. M., Monge, M., Olmos, E., Laguna, A., Villacampa, M. D. & Jones, P. G. (2000). J. Cluster Sci. 11, 153-166.





Koh, Y. W., Lai, C. S., Du, A. Y., Tiekink, E. R. T. & Loh, K. P. (2003). Chem. Mater. 15, 4544-4554.





Noro, S., Kitagawa, S., Kondo, M. & Seki, K. (2000). Angew. Chem. Int. Ed. 39, 2081-2084.


Rigaku (2007). CrystalClear. Rigaku Corporation, Tokyo, Japan.
Sheldrick, G. M. (2008). Acta Cryst. A64, 112-122.



Yaghi, O. M., Li, H., Davis, C., Richardson, D. & Groy, T. L. (1998). Acc. Chem. Res. 31, 474-484.