---

Volume 65
Part 3
Page o588
March 2009
Received 10 December 2008
Accepted 12 February 2009
Online 25 February 2009
Key indicators
Single-crystal X-ray study
T = 298 K
Mean

(C-C) = 0.003 Å
R = 0.057
wR = 0.155
Data-to-parameter ratio = 14.4
Details

trans-1,2,3-Tris(4-methoxybenzoyl)cyclopropane

In the title compound, C27H24O6, the packing of the molecules is mainly governed by C-H

O interactions.
Related literature
For related structures, see: Saba (1990

). For background to the chemistry of cyclopropanes as a versatile tool in organic synthesis, see: Wong (1989

).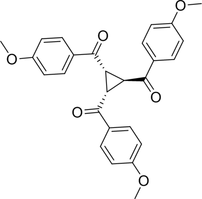 Experimental
Data collection: SMART (Bruker, 2001

); cell refinement: SAINT (Bruker, 2001

); data reduction: SAINT; program(s) used to solve structure: SHELXS97 (Sheldrick, 2008

); program(s) used to refine structure: SHELXL97 (Sheldrick, 2008

); molecular graphics: SHELXTL (Sheldrick, 2008

); software used to prepare material for publication: SHELXTL.
---
Supplementary data and figures for this paper are available from the IUCr electronic archives (Reference: RK2123 ).
---
Acknowledgements
The authors thank Professor An-Xin Wu for technical assistance and Dr Xiang-Gao Meng for the data collection.
---
Acta Cryst (2009). E65, o588 [ doi:10.1107/S1600536809005145 ]