Related literature
For hydrogen-bond motifs, see Bernstein et al. (1995

). For background to the bioactivity and applications of oxobutanoate derivatives, see: Alpaslan et al. (2005

); Billington et al. (1979

); Stancho et al. (2008

). For the synthesis, see Amir & Agarwal (1997

). For the stability of the temperature controller used in the data collection, see Cosier & Glazer (1986

).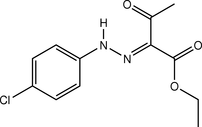 Experimental
Data collection: APEX2 (Bruker, 2005

); cell refinement: SAINT (Bruker, 2005

); data reduction: SAINT; program(s) used to solve structure: SHELXTL (Sheldrick, 2008

); program(s) used to refine structure: SHELXTL; molecular graphics: SHELXTL; software used to prepare material for publication: SHELXTL and PLATON (Spek, 2009

).
---
Supplementary data and figures for this paper are available from the IUCr electronic archives (Reference: TK2415 ).
---
AMI is grateful to the Head of the Department of Chemistry and the Director, NITK, Surathkal, India, for providing research facilities. The authors thank the Universiti Sains Malaysia for the Research University Golden Goose grant No. 1001/PFIZIK/811012.
Alpaslan, G., Özdamar, O., Odabasoglu, M., Ersanli, C. C., Erdönmez, A. & Ocak Ískeleli, N. (2005). Acta Cryst. E61, o3442-o3444.




Amir, M. & Agarwal, R. (1997). J. Indian Chem. Soc. 74, 154-155.


Bernstein, J., Davis, R. E., Shimoni, L. & Chang, N.-L. (1995). Angew. Chem. Int. Ed. Engl. 34, 1555-1573.




Billington, D. C., Golding, B. T. & Primrose, S. B. (1979). Biochem. J. 182, 827-836.



Bruker (2005). APEX2, SAINT and SADABS. Bruker AXS Inc., Madison, Wisconsin, USA.
Cosier, J. & Glazer, A. M. (1986). J. Appl. Cryst. 19, 105-107.





Sheldrick, G. M. (2008). Acta Cryst. A64, 112-122.



Spek, A. L. (2009). Acta Cryst. D65, 148-155.




Stancho, S., Georgi, M., Frank, J. & Ilia, M. (2008). Eur. J. Med. Chem. 43, 694-706.