---

Volume 65
Part 5
Page m554
May 2009
Received 15 April 2009
Accepted 16 April 2009
Online 22 April 2009
Key indicators
Single-crystal X-ray study
T = 100 K
Mean

(C-C) = 0.008 Å
R = 0.076
wR = 0.230
Data-to-parameter ratio = 16.3
Details

Bis(-2-methylquinolin-8-olato)-3N,O:O;3O:N,O-bis[(acetato-O)(methanol-O)zinc(II)]

aDepartment of Chemistry, General Campus, Shahid Beheshti University, Tehran 1983963113, Iran, and bDepartment of Chemistry, University of Malaya, 50603 Kuala Lumpur, Malaysia
Correspondence e-mail: seikweng@um.edu.my
The reaction of zinc acetate and 2-methyl-8-hydroxyquinoline in methanol yielded the centrosymmetric dinuclear title compound, [Zn2(C10H8NO)2(CH3CO2)2(CH3OH)2], which has the Zn atom within a distorted NO4 trigonal-bipyramidal coordination geometry. Methanol-acetate O-H

O hydrogen bonds link the dinculear units into a linear supramolecular chain extending parallel to [100].
Related literature
Unlike 8-hydroxyquinoline, which yields a large number of metal derivatives, 2-methyl-8-hydroxyquinoline forms only a small number of metal chelates. Besides a related chloride salt (Sattarzadeh et al., 2009

), there is only one crystal structure report of another zinc derivative; for aquabis(2-methylquinolin-8-ato)zinc, see: da Silva et al. (2007

).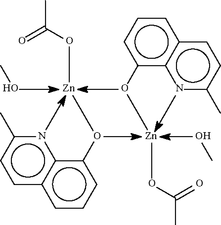 Experimental
Data collection: APEX2 (Bruker, 2008

); cell refinement: SAINT (Bruker, 2008

); data reduction: SAINT; program(s) used to solve structure: SHELXS97 (Sheldrick, 2008

); program(s) used to refine structure: SHELXL97 (Sheldrick, 2008

); molecular graphics: X-SEED (Barbour, 2001

); software used to prepare material for publication: publCIF (Westrip, 2009

).
---
Supplementary data and figures for this paper are available from the IUCr electronic archives (Reference: TK2424 ).
---
Acknowledgements
The authors thank Shahid Beheshti University and the University of Malaya for supporting this study.
Barbour, L. J. (2001). J. Supramol. Chem. 1, 189-191.



Bruker (2008). APEX2 and SAINT. Bruker AXS Inc., Madison, Wisconsin, USA.
Sattarzadeh, E., Mohammadnezhad, G., Amini, M. M. & Ng, S. W. (2009). Acta Cryst. E65, m553.




Sheldrick, G. M. (1996). SADABS. University of Göttingen, Germany.
Sheldrick, G. M. (2008). Acta Cryst. A64, 112-122.



Silva, L. E. da, Joussef, A. C., Rebelo, R. A., Foro, S. & Schmidt, B. (2007). Acta Cryst. E63, m129-m131.




Westrip, S. P. (2009). publCIF. In preparation.