Related literature
For previous crystallographic analysis of mitragynine salts (hydrobromide and hydroiodide), see: Zacharias et al. (1965

). For the method of extraction, see: Ponglux et al. (1994

). For synthetic studies, see: Ma et al. (2009

). For medicinal properties, see: Boyer et al. (2008

); Weibrecht et al. (2008

). For hydrogen-bond motifs, see: Bernstein et al. (1995

).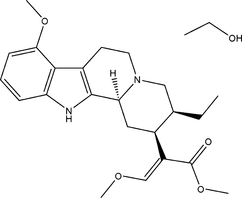 Experimental
Data collection: APEX2 (Bruker, 2005

); cell refinement: SAINT (Bruker, 2005

); data reduction: SAINT; program(s) used to solve structure: SHELXS97 (Sheldrick, 2008

); program(s) used to refine structure: SHELXL97 (Sheldrick, 2008

); molecular graphics: SHELXTL (Sheldrick, 2008

); software used to prepare material for publication: SHELXTL and ORTEP-3 (Farrugia, 1997

).
---
Supplementary data and figures for this paper are available from the IUCr electronic archives (Reference: BX2206 ).
---
This work was supported by the NIH-NCRR (grant No. 5P20RR021919). The authors also thank the Center for Disease Control and Prevention, USA, for providing financial assistance (CDC cooperative agreements 1UO1 CI000211-03 and 1UO1 CI000362-01). This investigation was conducted in a facility constructed with support from Research Facilities Improvement Program grant No. C06Rr-14503-01 from the National Center for Research Resources, National Institutes of Health.
Bernstein, J., Davis, R. E., Shimoni, L. & Chang, N.-L. (1995). Angew. Chem. Int. Ed. Engl. 34, 1555-1573.



Boyer, E. W., Babu, K. M., Adkins, J. E., McCurdy, C. R. & Halpern, J. H. (2008). Addiction, 103, 1048-1050.



Bruker (2005). APEX2, SAINT and SADABS. Bruker AXS Inc., Madison, Wisconsin, USA.
Farrugia, L. J. (1997). J. Appl. Cryst. 30, 565.



Flack, H. D. (1983). Acta Cryst. A39, 876-881.




Ma, J., Yin, W., Zhou, H., Liao, X. & Cook, J. M. (2009). J. Org. Chem. 74, 264-273.




Ponglux, D., Wongseripipatana, S., Takayama, H., Kikuchi, M., Kurihara, M., Kitajima, M., Aimi, N. & Sakai, S. (1994). Planta Med. 60, 580-581.




Sheldrick, G. M. (2008). Acta Cryst. A64, 112-122.



Weibrecht, K. W., Courtney, J. M., Halpern, J., McCurdy, C. & Boyer, E. W. (2008). Clin. Toxicol. 46, 395-399.
Zacharias, D. E., Rosenstein, R. D. & Jeffrey, G. A. (1965). Acta Cryst. 18, 1039-1043.