---

Volume 65
Part 6
Pages m625-m626
June 2009
Received 14 March 2009
Accepted 4 May 2009
Online 14 May 2009
Key indicators
Single-crystal X-ray study
T = 295 K
Mean

(C-C) = 0.004 Å
R = 0.028
wR = 0.068
Data-to-parameter ratio = 15.9
Details
catena-Poly[[tetraaquanickel(II)]-3-benzene-1,3,5-tricarboxylato-3':1:2-4O1:O3,O3':O5-[tetraaquanickel(II)]-2-benzene-1,3,5-tricarboxylato-2:32O1:O3-[tetraaquanickel(II)]]
The microwave solvothermal reaction of nickel nitrate with trimesic acid provided the title compound, [Ni3(BTC)2(H2O)12]n (BTC = benzene-1,3,5-tricarboxylate anion, C9H3O6), which is a metal coordination polymer composed of one-dimensional zigzag chains. The crystal under investigation was ramecically twinned with an approximate twin domain ratio of 1:1. In the asymmetric unit, there are two types of Ni atoms. One of the NiO6 groups (2 symmetry) is coordinated to only one carboxylate group and thus terminal, the other is bridging, forming the coordination polymer. The extended chains are connected by the organic BTC anions via

2-linkages. O-H

O hydrogen bonds and

-

interactions between the chains [centroid-centroid distance 3.58 (1) Å] induce the complex to mimic a three-dimensional structure.
Related literature
For background information on the solvothermal synthesis of coordination polymers with organic carboxylate ligands, see: Kitagawa et al. (2004

).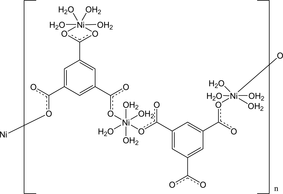 Experimental
Data collection: APEX2 (Bruker, 2008

); cell refinement: SAINT (Bruker, 2008

); data reduction: SAINT; program(s) used to solve structure: SHELXS97 (Sheldrick, 2008

); program(s) used to refine structure: SHELXL97 (Sheldrick, 2008

); molecular graphics: SHELXTL (Sheldrick, 2008

); software used to prepare material for publication: SHELXTL.
---
Supplementary data and figures for this paper are available from the IUCr electronic archives (Reference: ZL2190 ).
---
Acknowledgements
This research project was supported by the National Science Council of Taiwan (NSC97-2113-M-033-003-MY2) and by the project of the specific research fields of Chung Yuan Christian University, Taiwan, under grant No. CYCU-97-CR-CH.
---
Acta Cryst (2009). E65, m625-m626 [ doi:10.1107/S1600536809016729 ]