---

Volume 65
Part 7
Page o1474
July 2009
Received 22 May 2009
Accepted 28 May 2009
Online 6 June 2009
Key indicators
Single-crystal X-ray study
T = 295 K
Mean

(C-C) = 0.011 Å
R = 0.070
wR = 0.178
Data-to-parameter ratio = 13.2
Details

(E)-N'-(4-Bromobenzylidene)-2-(8-quinolyloxy)acetohydrazide monohydrate

In the title compound, C18H14BrN3O2·H2O, the dihedral angle between the mean planes of the benzene ring and the quinoline ring system is 34.2 (3)°. In the crystal, the constituents are linked into chains by O-H

O, N-H

O and O-H

N hydrogen bonds.
Related literature
For a related structure, see: Tan (2009

). For background to the coordination chemistry of 8-hydroxyquinoline and its derivatives, see: Chen & Shi (1998

); Mona & Wageih (2002

). For reference structural data, see: Allen et al. (1987

).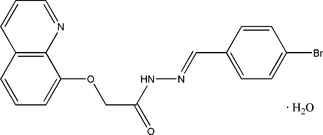 Experimental
Data collection: SMART (Siemens, 1996

); cell refinement: SAINT (Siemens, 1996

); data reduction: SAINT; program(s) used to solve structure: SHELXS97 (Sheldrick, 2008

); program(s) used to refine structure: SHELXL97 (Sheldrick, 2008

); molecular graphics: SHELXTL (Sheldrick, 2008

); software used to prepare material for publication: SHELXTL.
---
Supplementary data and figures for this paper are available from the IUCr electronic archives (Reference: HB2981 ).
---
Acknowledgements
This project was supported by the Natural Science Foundation of Zhejiang Province for Distinguished Young Students (No. 2008R40G2190024) and the Scientific Research Fund of the Zhejiang Provincial Education Department (No. Y200803569).
Allen, F. H., Kennard, O., Watson, D. G., Brammer, L., Orpen, A. G. & Taylor, R. (1987). J. Chem. Soc. Perkin Trans. 2, pp. S1-19.
Chen, C. H. & Shi, J. M. (1998). Coord. Chem. Rev. 171, 161-174.
Mona, M. M. & Wageih, G. H. (2002). J. Coord. Chem. 55, 439-457.
Sheldrick, G. M. (2008). Acta Cryst. A64, 112-122.



Siemens (1996). SMART, SAINT and SADABS. Siemens Analytical X-ray Instruments Inc., Madison, Wisconsin, USA.
Tan, J. (2009). Acta Cryst. E65, o651.