Related literature
For general background, see: McCoy (2000

); Schweizer et al. (2003

); Savluchinske-Feio et al. (2007

). For the crystal structure of a similar compound, see: Pan et al. (2006

). For standard bond-length data, see: Allen et al. (1987

).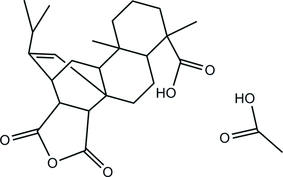 Experimental
Data collection: SMART (Bruker, 2000

); cell refinement: SAINT (Bruker, 2000

); data reduction: SAINT; program(s) used to solve structure: SHELXS97 (Sheldrick, 2008

); program(s) used to refine structure: SHELXL97 (Sheldrick, 2008

); molecular graphics: SHELXTL (Sheldrick, 2008

); software used to prepare material for publication: SHELXTL.
---
Supplementary data and figures for this paper are available from the IUCr electronic archives (Reference: WN2334 ).
---
This work was supported by the President of the Chinese Academy of Forestry Foundation (CAFYBB2008009).
Allen, F. H., Kennard, O., Watson, D. G., Brammer, L., Orpen, A. G. & Taylor, R. (1987). J. Chem. Soc. Perkin Trans. 2, pp. S1-19.
Bruker (2000). SMART and SAINT. Bruker AXS Inc., Madison, Wisconsin, USA.
McCoy, M. (2000). Chem. Eng. News, 78, 13-15.
Pan, Y.-M., Yang, L., Wang, H.-S., Zhao, Z.-C. & Zhang, Y. (2006). Acta Cryst. E62, o5701-o5703.




Savluchinske-Feio, S., Nunes, L., Pereira, P. T., Silva, A. M., Roseiro, J. C., Gigante, B. & Curto, M. J. M. (2007). J. Microbiol. Methods, 70, 465-470.





Schweizer, R. A. S., Atanasoc, A. G., Frey, B. M. & Odermatt, A. (2003). Mol. Cell. Endocrinol. 212, 41-49.





Sheldrick, G. M. (2008). Acta Cryst. A64, 112-122.