Related literature
For the preparation of cis-[PtCl2(PPh3)2], see: Bailar & Itatani (1965

). For the structure of trans-[PtCl2(PPh3)2], see: Johansson & Otto (2000

). For the structures of related cis-complexes, see: Anderson et al. (1982

); Al-Fawaz et al. (2004

); Fun et al. (2006

).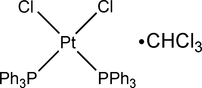 Experimental
Data collection: SMART (Bruker, 2001

); cell refinement: SAINT (Bruker, 2001

); data reduction: SAINT; program(s) used to solve structure: SHELXS97 (Sheldrick, 2008

); program(s) used to refine structure: SHELXL97 (Sheldrick, 2008

); molecular graphics: SHELXTL (Sheldrick, 2008

); software used to prepare material for publication: SHELXTL.
---
Supplementary data and figures for this paper are available from the IUCr electronic archives (Reference: CV2593 ).
---
The authors thank the University of Jinan (grant No. B0605) and the Key Subject Research Foundation of Shandong Province (grant No. XTD 0704) for support of this study.
Al-Fawaz, A., Aldridge, S., Coombs, D. L., Dickinson, A. A., Willock, D. J., Ooi, L., Light, M. E., Coles, S. J. & Hursthouse, M. B. (2004). Dalton Trans. pp. 4030-4037.




Anderson, G. K., Clark, H. C., Davies, J. A. & Ferguson, G. (1982). J. Crystallogr. Spectrosc. Res., 12, 449-458.




Bailar, J. C. Jr & Itatani, H. (1965). Inorg. Chem. 4, 1618-1620.




Bruker (2001). SMART, SAINT and SADABS. Bruker AXS Inc., Madison, Wisconsin, USA.
Fun, H.-K., Chantrapromma, S., Liu, Y.-C., Chen, Z.-F. & Liang, H. (2006). Acta Cryst. E62, m1252-m1254.




Johansson, M. H. & Otto, S. (2000). Acta Cryst. C56, e12-e15.



Sheldrick, G. M. (2008). Acta Cryst. A64, 112-122.