---

Volume 65
Part 10
Page o2561
October 2009
Received 14 September 2009
Accepted 22 September 2009
Online 26 September 2009
Key indicators
Single-crystal X-ray study
T = 298 K
Mean

(C-C) = 0.004 Å
Disorder in main residue
R = 0.061
wR = 0.149
Data-to-parameter ratio = 9.7
Details

(RS)-3-Acetyl-2-methyl-4-(3-nitrophenyl)-1,4,5,6,7,8-hexahydroquinolin-5-one

In the title compound, C18H18N2O4, the nitro group, a methyl group, the acetyl group and some atoms of the dihydroquinolinone group are disordered over two sites with the ratio of occupancies fixed at 0.57:0.43. The relationship between the major and minor components of disorder is that of diastereomers. In the crystal structure, intermolecular N-H

O, weak C-H

O and C-H


interactions link the molecules into two-dimensional layers running parallel to the (010) plane.
Related literature
For the biological importance of polyhydroquinoline derivatives, see: Ko & Yao (2006

). For bond-length data, see: Allen et al. (1987

).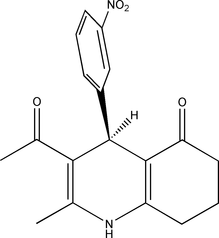 Experimental
Data collection: SMART (Bruker, 2001

); cell refinement: SAINT-Plus (Bruker, 2001

); data reduction: SAINT-Plus; program(s) used to solve structure: SHELXS97 (Sheldrick, 2008

); program(s) used to refine structure: SHELXL97 (Sheldrick, 2008

); molecular graphics: PLATON (Spek, 2009

); software used to prepare material for publication: PLATON.
---
Supplementary data and figures for this paper are available from the IUCr electronic archives (Reference: LH2906 ).
---
The authors thank Kashgar Teachers? College for financial support.
Allen, F. H., Kennard, O., Watson, D. G., Brammer, L., Orpen, A. G. & Taylor, R. (1987). J. Chem. Soc. Perkin Trans. 2, pp. S1-19.
Bruker (2001). SMART and SAINT-Plus. Bruker AXS Inc., Madison, Wisconsin, USA.
Ko, S. K. & Yao, C. F. (2006). Tetrahedron, 62, 7293-7299.




Sheldrick, G. M. (1996). SADABS. University of Göttingen, Germany.
Sheldrick, G. M. (2008). Acta Cryst. A64, 112-122.



Spek, A. L. (2009). Acta Cryst. D65, 148-155.