---

Volume 65
Part 10
Page o2368
October 2009
Received 1 September 2009
Accepted 1 September 2009
Online 9 September 2009
Key indicators
Single-crystal X-ray study
T = 295 K
Mean

(C-C) = 0.003 Å
R = 0.046
wR = 0.147
Data-to-parameter ratio = 13.8
Details

7H-Chromeno[3,2-h]quinolin-7-one methanol monosolvate

aKey Laboratory for the Chemistry & Molecular Engineering of Medicinal Resources, (Ministry of Education of China), School of Chemistry & Chemical Engineering, Guangxi Normal University, 541004 Guilin 541004, People's Republic of China, and bDepartment of Chemistry, University of Malaya, 50603 Kuala Lumpur, Malaysia
Correspondence e-mail: seikweng@um.edu.my
The four-ring system in the title compound, C16H9NO2·CH3OH, is planar (r.m.s deviation = 0.03 Å); the methanol solvent molecule forms a hydrogen bond to the quinoline N atom.
Related literature
The compound in this study was synthesized from the cyclization of 2-(quinolin-8-yloxy)benzoic acid; for the synthesis of this acid, see: Chen et al. (2007

). For the synthesis by the Skraup reaction of amino-9H-xanthene-9-one, see: Fujiwara & Okabayashi (1994

).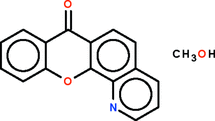 Experimental
Data collection: APEX2 (Bruker, 2004

); cell refinement: SAINT (Bruker, 2004

); data reduction: SAINT

); program(s) used to solve structure: SHELXS97 (Sheldrick, 2008

); program(s) used to refine structure: SHELXL97 (Sheldrick, 2008

); molecular graphics: X-SEED (Barbour, 2001

); software used to prepare material for publication: publCIF (Westrip, 2009

).
---
Supplementary data and figures for this paper are available from the IUCr electronic archives (Reference: XU2605 ).
---
Acknowledgements
This work was supported by the Guangxi Natural Science Foundation (No.0639030), the Guangxi Normal University Foundation and the University of Malaya.
Barbour, L. J. (2001). J. Supramol. Chem. 1, 189-191.



Bruker (2004). APEX2 and SAINT. Bruker AXS inc., Madison, Wisconsin, USA.
Chen, Q., Qin, J.-K., Zeng, M.-H. & Ng, S. W. (2007). Acta Cryst. E63, o453-o454.




Fujiwara, H. & Okabayashi, I. (1994). Heterocycles, 38, 541-550.



Sheldrick, G. M. (2008). Acta Cryst. A64, 112-122.



Westrip, S. P. (2009). publCIF. In preparation.