Related literature
For the synthesis of

-amino acids, see: Cohen et al. (2002

); Qu et al. (2004

); Zhao (2007

). For hydrogen-bond motifs, see: Bernstein et al. (1995

); Etter et al. (1990

).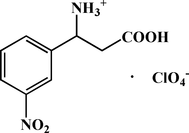 Experimental
Data collection: CrystalClear (Rigaku 2005

); cell refinement: CrystalClear; data reduction: CrystalClear; program(s) used to solve structure: SHELXS97 (Sheldrick, 2008

); program(s) used to refine structure: SHELXL97 (Sheldrick, 2008

); molecular graphics: SHELXTL (Sheldrick, 2008

); software used to prepare material for publication: PRPKAPPA (Ferguson, 1999

).
---
Supplementary data and figures for this paper are available from the IUCr electronic archives (Reference: RZ2399 ).
---
This work was supported by the Technical Fund Financing Projects (No. 9207042464 and 9207041482) from Southeast University to ZRQ.
Bernstein, J., Davis, R. E., Shimoni, L. & Chang, N.-L. (1995). Angew. Chem. Int. Ed. Engl. 34, 1555-1573.




Cohen, J. H., Abdel-Magid, A. F., Almond, H. R. Jr & Maryanoff, C. A. (2002). Tetrahedron Lett. 43, 1977-1981.




Etter, M. C., MacDonald, J. C. & Bernstein, J. (1990). Acta Cryst. B46, 256-262.




Ferguson, G. (1999). PRPKAPPA. University of Guelph, Canada.
Qu, Z.-R., Zhao, H., Wang, Y.-P., Wang, X.-S., Ye, Q., Li, Y.-H., Xiong, R.-G., Abrahams, B. F., Liu, Z.-G. & Xue, Z.-L. (2004). Chem. Eur. J. 10, 54-60.
Rigaku (2005). CrystalClear. Rigaku Corporation, Tokyo, Japan.
Sheldrick, G. M. (2008). Acta Cryst. A64, 112-122.



Zhao, H. (2007). Acta Cryst. E63, o3400.