---

Volume 66
Part 2
Page o264
February 2010
Received 16 November 2009
Accepted 23 December 2009
Online 9 January 2010
Key indicators
Single-crystal X-ray study
T = 113 K
Mean

(C-C) = 0.003 Å
R = 0.036
wR = 0.088
Data-to-parameter ratio = 17.4
Details

5-Amino-7-(4-bromophenyl)-3,7-dihydro-2H-thieno[3,2-b]pyran-6-carbonitrile 1,1-dioxide

aSchool of Chemistry and Chemical Engineering, Xuzhou Normal University, Xuzhou 221116, People's Republic of China, and, Key Laboratory of Biotechnology for Medicinal Plants, Xuzhou Normal University, Xuzhou 221116, People's Republic of China
Correspondence e-mail: chshengyaonk@mail.nankai.edu.cn
In the title compound, C14H11BrN2O3S, the 2,3-dihydrothiophene ring is almost planar [maximum deviation = 0.006 (1) Å]. The pyran ring is in an envelope conformation [puckering parameters Q = 0.115 (2) Å,

= 77.5 (10),

= 172.9 (10)°]. The pyran and phenyl rings are approximately perpendicular, making a dihedral angle of -76.4 (2)°. The crystal packing is stabilized by intermolecular N-H

O hydrogen bonds, with the sulfone O atoms acting as acceptors.
Related literature
For the use of thienopyranyl compounds, such as thieno[3,2-b]pyran derivatives, as antiviral agents, see: Friary et al. (1991

) and as

-2C adrenoreceptor agonists, see: Chao et al. (2009

). For puckering parameters, see: Cremer & Pople (1975

).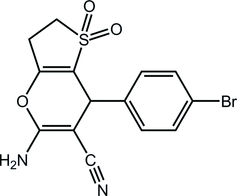 Experimental
Data collection: CrystalClear (Rigaku/MSC, 2005

); cell refinement: CrystalClear; data reduction: CrystalClear; program(s) used to solve structure: SHELXS97 (Sheldrick, 2008

); program(s) used to refine structure: SHELXL97 (Sheldrick, 2008

); molecular graphics: SHELXTL (Sheldrick, 2008

); software used to prepare material for publication: SHELXTL.
---
Supplementary data and figures for this paper are available from the IUCr electronic archives (Reference: FJ2262 ).
---
Acknowledgements
The authors acknowledge financial support by the Graduate Foundation of Xuzhou Normal University (No. 09YLB030).
Chao, J. H., Zheng, J. Y. & Aslanian, R. G. (2009). WO Patent No. 2009020578.
Cremer, D. & Pople, J. A. (1975). J. Am. Chem. Soc. 97, 1354-1358.




Friary, R. J., Schwerdt, J. H. & Ganguly, A. K. (1991). US Patent No. 5034531.
Rigaku/MSC (2005). CrystalClear. Rigaku/MSC Inc., The Woodlands, Texas, USA.
Sheldrick, G. M. (2008). Acta Cryst. A64, 112-122.