---

Volume 66
Part 2
Page o485
February 2010
Received 4 December 2009
Accepted 4 January 2010
Online 30 January 2010
Key indicators
Single-crystal X-ray study
T = 298 K
Mean

(C-C) = 0.004 Å
R = 0.083
wR = 0.189
Data-to-parameter ratio = 13.8
Details

Propyl 4-hydroxybenzoate

There are two molecules in the asymmetric unit of the title compound, C10H12O3. In the crystal, molecules are linked by O-H

O hydrogen bonds into chains running along [010]. Adjacent chains are joined together by weak

-

interactions between benzene rings [centroid-centroid distance = 4.040 (2) Å].
Related literature
For the structure of another p-hydroxybenzoate, see: Mandal & Kadirvelraj (1996

).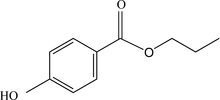 Experimental
Data collection: SMART (Bruker, 2001

); cell refinement: SAINT-Plus (Bruker, 2001

); data reduction: SAINT-Plus; program(s) used to solve structure: SHELXS97 (Sheldrick, 2008

); program(s) used to refine structure: SHELXL97 (Sheldrick, 2008

); molecular graphics: PLATON (Spek, 2009

); software used to prepare material for publication: PLATON.
---
Supplementary data and figures for this paper are available from the IUCr electronic archives (Reference: FK2009 ).
---
Acknowledgements
We would like to thank the National Nature Science Foundation of China (30971948) and Wuhan's program in science and technology (200760423155) for financial support for this work. We also wish to express our thanks to Meng Xianggao for his warmest help and patience.
---
Acta Cryst (2010). E66, o485 [ doi:10.1107/S1600536810000139 ]