Related literature
The title compound is used in the preparation of nicosulfuron, a member of the sulfonylurea family of herbicides, see: Green & Ulrich (1993

). For the synthesis, see: Murai et al. (1992

).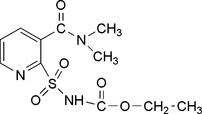 Experimental
Data collection: APEX2 (Bruker, 2004

); cell refinement: SAINT (Bruker, 2004

); data reduction: SAINT; program(s) used to solve structure: SHELXS97 (Sheldrick, 2008

); program(s) used to refine structure: SHELXL97 (Sheldrick, 2008

); molecular graphics: SHELXTL (Sheldrick, 2008

); software used to prepare material for publication: publCIF (Westrip, 2010

).
---
Supplementary data and figures for this paper are available from the IUCr electronic archives (Reference: XU2723 ).
---
We thank the National Natural Science Foundation of China (No. 20872030) and Heilongjiang University of China for supporting this study.
Bruker (2004). APEX2 and SAINT. Bruker AXS Inc., Madison, Wisconsin, USA.
Green, J. M. & Ulrich, J. F. (1993). Weed Sci.. 41, 508-516.


Murai, S., Nakamura, Y., Akagi, T., Sakashita, T. & Haga, T. (1992). Synthesis and Chemistry of Agrochemicals III, ACS Symposium Series, Vol. 504, edited by D. R., Baker, J. G. Fenyes & J. J. Steffens, pp. 43-55. Washington: American Chemical Society.
Sheldrick, G. M. (1996). SADABS. University of Göttingen, Germany.
Sheldrick, G. M. (2008). Acta Cryst. A64, 112-122.



Westrip, S. P. (2010). publCIF. In preparation.