Related literature
For bond-length data, see: Allen et al. (1987

). For background to Schiff base-metal complexes, see: Granovski et al. (1993

); Blower et al. (1998

); Elmali et al. (2000

).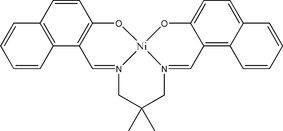 Experimental
Data collection: APEX2 (Bruker, 2005

); cell refinement: SAINT (Bruker, 2005

); data reduction: SAINT; program(s) used to solve structure: SHELXTL (Sheldrick, 2008

); program(s) used to refine structure: SHELXTL; molecular graphics: SHELXTL; software used to prepare material for publication: SHELXTL and PLATON (Spek, 2009

).
---
Supplementary data and figures for this paper are available from the IUCr electronic archives (Reference: BQ2198 ).
---
HK and RK thank PNU for financial support and RK also thanks Islamic Azad University. IUK thanks GC University of Lahore, Pakistan, for the research facilities.
Allen, F. H., Kennard, O., Watson, D. G., Brammer, L., Orpen, A. G. & Taylor, R. (1987). J. Chem. Soc. Perkin Trans. 2, pp. S1-19.
Blower, P. J. (1998). Transition Met. Chem. 23, 109-112.



Bruker (2005). APEX2, SAINT and SADABS. Bruker AXS Inc., Madison, Wisconsin, USA.
Elmali, A., Elerman, Y. & Svoboda, I. (2000). Acta Cryst. C56, 423-424.




Granovski, A. D., Nivorozhkin, A. L. & Minkin, V. I. (1993). Coord. Chem. Rev. 126, 1-69.
Sheldrick, G. M. (2008). Acta Cryst. A64, 112-122.



Spek, A. L. (2009). Acta Cryst. D65, 148-155.