---

Volume 66
Part 5
Page m570
May 2010
Received 19 April 2010
Accepted 20 April 2010
Online 24 April 2010
Key indicators
Single-crystal X-ray study
T = 293 K
Mean

(C-C) = 0.005 Å
R = 0.021
wR = 0.054
Data-to-parameter ratio = 21.0
Details

ADDENDA AND ERRATA
A correction has been published for this article. To view the correction, click
here
Dichlorido{4-cyclohexyl-1-[1-(2-pyridyl-N)ethylidene]thiosemicarbazidato-2N1,S}methyltin(IV)

aFaculty of Resource Science and Technology, Universiti Malaysia Sarawak, 94300 Kota Samarahan, Sarawak, Malaysia, and bDepartment of Chemistry, University of Malaya, 50603 Kuala Lumpur, Malaysia
Correspondence e-mail: seikweng@um.edu.my
The monodeprotonated Schiff base ligand in the title compound, [Sn(CH3)(C14H19N4S)Cl2], N,N',S-chelates to the Sn atom, which is six-coordinated in an octahedral environment. The three coordinating atoms along with the methyl C atom comprise a square plane, above and below which are positioned the Cl atoms. The amino group is a hydrogen-bond donor to a Cl atom of an adjacent molecule, the hydrogen bond giving rise to a helical chain extending parallel to [100].
Related literature
For the crystal structures of other metal derivatives of the Schiff base, see: Joseph et al. (2004

); Kovala-Demertzi et al. (2007

).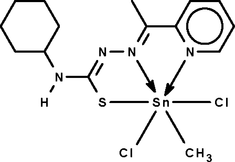 Experimental
Data collection: APEX2 (Bruker, 2009

); cell refinement: SAINT (Bruker, 2009

); data reduction: SAINT; program(s) used to solve structure: SHELXS97 (Sheldrick, 2008

); program(s) used to refine structure: SHELXL97 (Sheldrick, 2008

); molecular graphics: X-SEED (Barbour, 2001

); software used to prepare material for publication: publCIF (Westrip, 2010

).
---
Supplementary data and figures for this paper are available from the IUCr electronic archives (Reference: BT5250 ).
---
We thank MOSTI (grant No. 06-01-09-SF0046), Universiti Malaysia Sarawak and the University of Malaya for supporting this study.
Barbour, L. J. (2001). J. Supramol. Chem. 1, 189-191.



Bruker (2009). APEX2 and SAINT. Bruker AXS Inc., Madison, Wisconsin, USA.
Flack, H. D. (1983). Acta Cryst. A39, 876-881.



Joseph, M., Suni, V., Kurup, M. R. P., Nethaji, M., Kishore, A. & Bhat, S. G. (2004). Polyhedron, 23, 3069-3080.





Kovala-Demertzi, D., Galani, A., Kourkoumelis, N., Miller, J. R. & Demertzis, M. A. (2007). Polyhedron, 26, 2871-2879.





Sheldrick, G. M. (1996). SADABS. University of Göttingen, Germany.
Sheldrick, G. M. (2008). Acta Cryst. A64, 112-122.



Westrip, S. P. (2010). J. Appl. Cryst. 43. Submitted.