---

Volume 66
Part 5
Page m543
May 2010
Received 12 April 2010
Accepted 14 April 2010
Online 21 April 2010
Key indicators
Single-crystal X-ray study
T = 293 K
Mean

(C-C) = 0.005 Å
R = 0.019
wR = 0.039
Data-to-parameter ratio = 12.2
Details

Poly[diaquabis(2-5-carboxy-2-propyl-1H-imidazole-4-carboxylato-3N3,O4:O5)lead(II)]

aDepartment of Chemistry and Chemical Engineering, Henan University of Urban Construction, Pingdingshan 467044, People's Republic of China, and bDepartment of Environmental and Municipal Engineering, Henan University of Urban Construction, Pingdingshan 467044, People's Republic of China
Correspondence e-mail: chenxiangdl2008@163.com
In the title complex, [Pb(C8H9N2O4)2(H2O)2]n, the eight-coordinate PbII atom lies on a twofold rotation axis and adopts a slightly distorted square-antiprismatic N2O6 coordination geometry. The ligand donor atoms are the tertiary N atoms of the imidazole rings and the carboxylate O atoms of two chelating 5-carboxy-2-propyl-1H-imidazole-4-carboxylate ligands, the carboxy O atoms of two additional imidazole ligands and two water O atoms. The carboxy O and the N,O-chelate systems also link adjacent PbII atoms, forming a two-dimensional layer structure, with four individual PbII atoms located at the corners of a square. These layers are further interconnected by an extensive array of O-H

O and N-H

O hydrogen bonds into a three-dimensional network.
Related literature
For the properties and uses of imidazoledicarboxylate complexes, see: Cao et al. (2002

); Rajendiran et al. (2003

).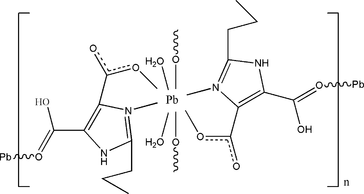 Experimental
Data collection: SMART (Bruker, 2007

); cell refinement: SAINT (Bruker, 2007

); data reduction: SAINT; program(s) used to solve structure: SHELXS97 (Sheldrick, 2008

); program(s) used to refine structure: SHELXL97 (Sheldrick, 2008

); molecular graphics: SHELXTL (Sheldrick, 2008

) and DIAMOND (Brandenburg, 1999

); software used to prepare material for publication: SHELXTL.
---
Supplementary data and figures for this paper are available from the IUCr electronic archives (Reference: SJ2771 ).
---
The authors acknowledge Henan University of Urban Construction for supporting this work.
Brandenburg, K. (1999). DIAMOND. Crystal Impact GbR, Bonn, Germany.
Bruker (2007). SMART, SAINT and SADABS. Bruker AXS Inc., Madison, Wisconsin, USA.
Cao, R., Sun, D.-F., Liang, Y.-C., Hong, M.-C., Tatsumi, K. & Shi, Q. (2002). Inorg. Chem. 41, 2087-2094.






Rajendiran, T. M., Kirk, M. L., Setyawati, I. A., Caudle, M. T., Kampf, J. W. & Pecoraro, V. L. (2003). Chem. Commun. 7, 824-825.



Sheldrick, G. M. (2008). Acta Cryst. A64, 112-122.