---

Volume 66
Part 6
Page o1430
June 2010
Received 13 May 2010
Accepted 16 May 2010
Online 22 May 2010
Key indicators
Single-crystal X-ray study
T = 298 K
Mean

(C-C) = 0.007 Å
Disorder in solvent or counterion
R = 0.051
wR = 0.143
Data-to-parameter ratio = 13.7
Details

4-Bromoanilinium hexafluorophosphate monohydrate

In the title compound, C6H7BrN+·PF6-·H2O, N-H

F, N-H

O and O-H

F hydrogen-bonding interactions stabilize the crystal structure and give rise to to chains running parallel to the c axis. In the anion, four of the F atoms are disordered over two sets of sites of equal occupancy.
Related literature
The title compound was synthesized as part of our group's search for ferroelectric compounds, which usually have a phase transition. For background to phase transition materials, see: Li et al. (2008

); Zhang et al. (2009

).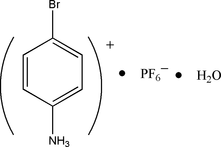 Experimental
Data collection: CrystalClear (Rigaku, 2005

); cell refinement: CrystalClear; data reduction: CrystalClear; program(s) used to solve structure: SHELXS97 (Sheldrick, 2008

); program(s) used to refine structure: SHELXL97 (Sheldrick, 2008

); molecular graphics: SHELXTL (Sheldrick, 2008

); software used to prepare material for publication: PRPKAPPA (Ferguson, 1999

).
---
Supplementary data and figures for this paper are available from the IUCr electronic archives (Reference: JH2158 ).
---
Acknowledgements
The authors are grateful to the starter fund of Southeast University for financial support to buy the X-ray diffractometer.
Ferguson, G. (1999). PRPKAPPA. University of Guelph, Canada.
Li, X. Z., Qu, Z. R. & Xiong, R. G. (2008). Chin. J. Chem. 11, 1959-1962


Rigaku (2005). CrystalClear. Rigaku Corporation, Tokyo, Japan.
Sheldrick, G. M. (2008). Acta Cryst. A64, 112-122.



Zhang, W., Chen, L. Z., Xiong, R. G., Nakamura, T. & Huang, S. D. (2009). J. Am. Chem. Soc. 131, 12544-12545