---

Volume 66
Part 8
Page m873
August 2010
Received 9 July 2009
Accepted 4 August 2009
Online 3 July 2010
Key indicators
Single-crystal X-ray study
T = 100 K
Mean

(N-C) = 0.008 Å
R = 0.025
wR = 0.055
Data-to-parameter ratio = 16.8
Details

Poly[{10-[(phosphonomethyl)iminodimethylene]diphosphonato}dithallium(I)]

The title compound, [Tl2(C3H10NO9P3)]n, a TlI organic-inorganic hybrid complex, was synthesized by the reaction of nitrilotris(methylenephosphonic acid) with thallium(I) nitrate. There are two types of Tl+ ions in the complex, with coordination numbers of eight and seven and with stereochemically active and inactive lone-pair electrons, respectively. In the crystal, the doubly deprotonated ligands form two-dimensional hydrogen-bonded layers through O-H

O hydrogen bonds. The NH group is involved in a trifurcated intramolecular hydrogen bond. Coordination of the phosphonate ligands to the Tl+ ions creates a three-dimensional structure.
Related literature
For related metal phosphonate complexes of the same ligand, see: Sharma et al. (2001

).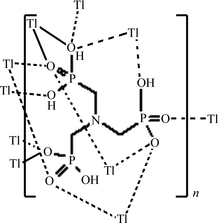 Experimental
Data collection: APEX2 (Bruker, 2007

); cell refinement: SAINT (Bruker, 2007

); data reduction: SAINT; program(s) used to solve structure: SHELXS97 (Sheldrick, 2008

); program(s) used to refine structure: SHELXL97 (Sheldrick, 2008

); molecular graphics: SHELXTL (Sheldrick, 2008

); software used to prepare material for publication: SHELXTL.
---
Supplementary data and figures for this paper are available from the IUCr electronic archives (Reference: SU2128 ).
---
Acknowledgements
Support of this investigation by Tarbiat Modares University Research Council is gratefully acknowledged.
---
Acta Cryst (2010). E66, m873 [ doi:10.1107/S1600536809031006 ]