---

Volume 66
Part 8
Page o2106
August 2010
Received 4 July 2010
Accepted 14 July 2010
Online 24 July 2010
Key indicators
Single-crystal X-ray study
T = 298 K
Mean

(C-C) = 0.007 Å
R = 0.048
wR = 0.118
Data-to-parameter ratio = 6.3
Details

3-Nitro-5-(4-pyridinio)benzoate

The title compound, C12H8N2O4, crystallizes as a zwitterion in which the pyridyl N atom is protonated. The dihedral angle between the benzene and pyridinium rings is 27.9 (2)°. In the crystal, N-H

O hydrogen bonds link adjacent zwitterions into a three-dimensional structure.
Related literature
The title compound was reacted with MgCl2 under hydrothermal conditions in an attempt to obtain a new coordination polymer as part of our investigation of pyridine caboxylate coordination polymers. For the advantages of hydrothermal synthesis, see: Feng et al. (2001

); Tao et al. (2001

). For the crystal structures of coordination polymers involving 4-pyridinecarboxylate ligands, see: Lu et al. (2003

).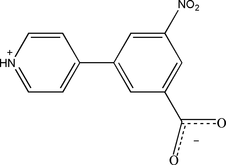 Experimental
Data collection: SMART (Bruker, 2007

); cell refinement: SAINT (Bruker, 2007

); data reduction: SAINT; program(s) used to solve structure: SHELXS97 (Sheldrick, 2008

); program(s) used to refine structure: SHELXL97 (Sheldrick, 2008

); molecular graphics: SHELXTL (Sheldrick, 2008

); software used to prepare material for publication: SHELXL97.
---
Supplementary data and figures for this paper are available from the IUCr electronic archives (Reference: WN2400 ).
---
Acknowledgements
The authors acknowledge Pingdingshan University for supporting this work.
Bruker (2007). SMART, SAINT and SADABS. Bruker AXS Inc., Madison, Wisconsin, USA.
Feng, S. H. & Xu, R. R. (2001). Acc. Chem. Res. 34, 239-247.





Lu, T. B. & Luck, R. L. (2003). Inorg. Chim. Acta, 351, 345-355.





Sheldrick, G. M. (2008). Acta Cryst. A64, 112-122.



Tao, J., Zhang, X. M., Tong, M. L. & Chen, X. M. (2001). J. Chem. Soc. Dalton Trans. pp. 770-771.