---

Volume 66
Part 8
Page o2092
August 2010
Received 29 June 2010
Accepted 15 July 2010
Online 24 July 2010
Key indicators
Single-crystal X-ray study
T = 293 K
Mean

(C-C) = 0.010 Å
R = 0.053
wR = 0.136
Data-to-parameter ratio = 8.1
Details

10,13-Dimethyl-16-oxo-4,5,6,7,8,9,10,11,12,13,14,15,16,17-tetradecahydro-1H-cyclopenta[a]phenanthren-17-yl acetate

aKey Laboratory of Forest Resources Conservation and Use in the Southwest Mountains of China (Ministry of Education), Southwest Forestry University, Kunming 650224, People's Republic of China,bZhejiang Apeloa Kangyu Pharmaceutical Co Ltd, Jinhua 322118, People's Republic of China, and cSchool of Chemical Science and Technology, Key Laboratory of Medicinal Chemistry for Natural Resources (Ministry of Education), Yunnan University, Kunming 650091, People's Republic of China
Correspondence e-mail: kunwei2008@126.com
In the title compound, C21H30O3, the five-membered ring adopts an envelope conformation, the cyclohexene ring displays a half-chair conformation and the two cyclohexane rings have normal chair conformations. In the crystal structure, weak intermolecular C-H

O hydrogen bonding links the molecules into supramolecular chains running along [100].
Related literature
Rocuronium is a non-depolarizing neuromuscular blocking agent. The title compound was obtained as an intermediate during our ongoing investigation of the synthesis of rocuronium bromide; for further information on rocuronium bromide, see: Tuba et al. (2002

); Auer (2007

). For the synthesis, see: Tuba (1980

); Newaz & Tcholakian (1984

).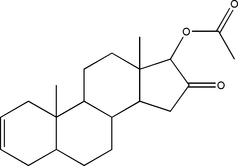 Experimental
Data collection: SMART (Bruker, 2004

); cell refinement: SAINT (Bruker, 2004

); data reduction: SAINT; program(s) used to solve structure: SHELXS97 (Sheldrick, 2008

); program(s) used to refine structure: SHELXL97 (Sheldrick, 2008

); molecular graphics: SHELXTL (Sheldrick, 2008

); software used to prepare material for publication: SHELXTL.
---
Supplementary data and figures for this paper are available from the IUCr electronic archives (Reference: XU2791 ).
---
Acknowledgements
The authors gratefully acknowledge computing time provided by the X-ray Diffraction Analysis Centre of the Key Laboratory of Medicinal Chemistry for Natural Resources (Ministry of Education), Yunnan University, China.
Auer, U. (2007). Vet. J. 173, 422-427.




Bruker (2004). SMART and SAINT. Bruker AXS Inc., Madison, Wisconsin, USA.
Newaz, S. N. & Tcholakian, R. K. (1984). Steroids, 43, 445-456.




Sheldrick, G. M. (2008). Acta Cryst. A64, 112-122.



Tuba, Z. (1980). Arzneim. Forschung. 30, 342-346.


Tuba, Z., Maho, S. & Vizi, S. (2002). Curr. Med. Chem. 9, 1507-1536.