---

Volume 66
Part 9
Pages m1145-m1146
September 2010
Received 6 August 2010
Accepted 17 August 2010
Online 21 August 2010
Key indicators
Single-crystal X-ray study
T = 100 K
Mean

(C-C) = 0.002 Å
R = 0.024
wR = 0.074
Data-to-parameter ratio = 19.0
Details

Diaquabis(perchlorato)(1,10-phenanthroline)copper(II)

aLaboratoire de Chimie des Matériaux, Faculté des Sciences de Bizerte, 7021 Zarzouna, Tunisia, and bYoungstown State University, Department of Chemistry, One University Plaza, Youngstown, Ohio 44555-3663, USA
Correspondence e-mail: cherif_bennasr@yahoo.fr
In the title compound, [Cu(ClO4)2(C12H8N2)(H2O)2], the CuII atom is coordinated in a square-planar fashion by the two N atoms of a chelating 1,10-phenanthroline ligand and by two water molecules trans to the N atoms. The coordination sphere of the metal atom is augmented by O atoms of two weakly bonded perchlorate anions, thus yielding a strongly distorted CuN2O4 octahedral environment. The crystal packing is stabilized by O-H

O hydrogen bonds between the water molecules and the perchlorate anions. In addition, the organic molecules are associated by

-

stacking interactions between symmetry-equivalent antiparallel non-nitrogen aromatic rings, with interplanar distances of 3.543 (2) Å.
Related literature
For common applications of metal-organic coordination compounds, see: Kubo (1976

); Kobel & Hanack (1986

); Pierpont & Jung (1994

); Huskins & Robson (1990

). For a related structure, see: Kaabi et al. (2010

). For

-

interactions, see: Janiak (2000

).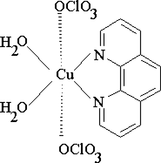 Experimental
Data collection: APEX2 (Bruker, 2009

); cell refinement: SAINT (Bruker, 2009

); data reduction: SAINT; program(s) used to solve structure: SHELXTL (Sheldrick, 2008

); program(s) used to refine structure: SHELXTL; molecular graphics: SHELXTL and DIAMOND (Brandenburg, 1998

); software used to prepare material for publication: SHELXTL.
---
Supplementary data and figures for this paper are available from the IUCr electronic archives (Reference: WM2390 ).
---
We would like to acknowledge the support provided by the Secretary of State for Scientific Research and Technology of Tunisia. The diffractometer was funded by NSF grant 0087210, by Ohio Board of Regents grant CAP-491, and by YSU.
Brandenburg, K. (1998). DIAMOND. Crystal Impact GbR, Bonn., Germany.
Bruker (2009). APEX2, SAINT and SADABS. Bruker AXS Inc, Madison, USA.
Huskins, B. F. & Robson, R. (1990). J. Am. Chem. Soc. 112, 1546-1554.
Janiak, J. (2000). J. Chem. Soc. Dalton Trans. pp. 3885-3896.


Kaabi, K., El Glaoui, M., Pereira Silva, P. S., Ramos Silva, M. & Ben Nasr, C. (2010). Acta Cryst. E66, m617.



Kobel, W. & Hanack, M. (1986). Inorg. Chem. 25, 103-107.




Kubo, M. (1976). Coord. Chem. Rev. 21, 1-27.
Pierpont, C. G. & Jung, O. (1994). J. Am. Chem. Soc. 116, 2229-2230.
Sheldrick, G. M. (2008). Acta Cryst. A64, 112-122.