---

Volume 66
Part 10
Page m1187
October 2010
Received 16 August 2010
Accepted 26 August 2010
Online 4 September 2010
Key indicators
Single-crystal X-ray study
T = 293 K
Mean

(C-C) = 0.003 Å
R = 0.032
wR = 0.085
Data-to-parameter ratio = 11.0
Details

A two-dimensional manganese(II) complex: poly[bis(2-4,4'-bipyridyl)tetrakis(2-3,5-dinitrobenzoato)dimanganese(II)]

The Mn atom in the title compound, [Mn2(C7H3N2O6)4(C10H8N2)2]n, is six-coordinated by two N atoms and four O atoms, forming a distorted octahedral geometry. The Mn-O bond lengths are in the range 2.1281 (13)-2.2011 (12) Å and the Mn-N bond lengths are 2.269 (2) and 2.278 (2) Å. Mn(II) atoms are double-bridged along the a axis by two pairs of bi-monodentate carboxyl groups, forming a double-stranded chain, while the bidentate 4,4'-bipyridine ligand bridges the Mn atom along the b axis. This results in a two-dimensional structure constructed of oblong grids with the sides of length 11.634 and 5.075 Å
Related literature
In order to study the relationship between the manganese ion and the biological coordination agent, the role of the manganese ion in the active sites and the structure of the active sites in the manganese enzymes, small molecule complexes are often applied to modeling the structure and the properties of reaction in the active centers, see: Shi et al. (2000

). The characterization of metal complexes containing monocarboxylic acids has demonstrated the versatility of the carboxylate group as an innersphere ligand, see: Mehrotra & Bohra (1983

).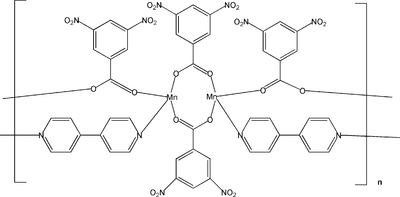 Experimental
Data collection: CrystalClear Rigaku (2000

); cell refinement: CrystalClear; data reduction: CrystalClear; program(s) used to solve structure: SHELXS97 (Sheldrick, 2008

); program(s) used to refine structure: SHELXL97 (Sheldrick, 2008

); molecular graphics: SHELXTL (Sheldrick, 2008

); software used to prepare material for publication: SHELXL97.
---
Supplementary data and figures for this paper are available from the IUCr electronic archives (Reference: BR2146 ).
---
Acknowledgements
The authors would like to thank Fujian Provincial Science and Technology Innovation Foundation under Grant No 2007F3038 for financial support.
Mehrotra, R. C. & Bohra, R. (1983). Metal Carboxylates. London: Academic Press.
Rigaku (2000). CrystalClear and CrystalStructure. Rigaku Corporation, Tokyo, Japan.
Sheldrick, G. M. (2008). Acta Cryst. A64, 112-122.



Shi, Z., Zhang, L. R., Gao, S., Yang, G., Hua, J., Gao, L. & Feng, S. (2000). Inorg. Chem. 39, 1990-1993.