---

Volume 66
Part 10
Page m1213
October 2010
Received 23 August 2010
Accepted 29 August 2010
Online 4 September 2010
Key indicators
Single-crystal X-ray study
T = 200 K
Mean

(C-C) = 0.015 Å
R = 0.027
wR = 0.053
Data-to-parameter ratio = 14.7
Details

(2,2'-Bipyridine-2N,N')tetrabromidoplatinum(IV)

In the title complex, [PtBr4(C10H8N2)], the PtIV ion has a slightly distorted octahedral coordination defined by two N atoms of the chelating 2,2'-bipyridine ligand and four bromide ions. As a result of the different trans effects of the N and Br atoms, the Pt-Br bonds trans to the N atom are slightly shorter than those to mutually trans Br atoms. In the crystal structure, the molecules are arranged in a V-shaped packing pattern along the b axis and stacked in columns along the a axis. In the columns, several intermolecular

-

interactions between the pyridine rings are present. The shortest ring centroid-centroid distance is 3.921 (6) Å, with a dihedral angle of 1.6 (5)° between the ring planes. The complexes are connected by C-H

Br hydrogen bonds, forming chains along the b axis.
Related literature
For the crystal structure of [PtCl4(bipy)] (bipy = 2,2'-bipyridine), see: Hambley (1986

).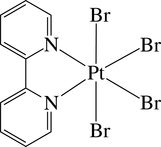 Experimental
Data collection: SMART (Bruker, 2000

); cell refinement: SAINT (Bruker, 2000

); data reduction: SAINT; program(s) used to solve structure: SHELXS97 (Sheldrick, 2008

); program(s) used to refine structure: SHELXL97 (Sheldrick, 2008

); molecular graphics: ORTEP-3 (Farrugia, 1997

) and PLATON (Spek, 2009

); software used to prepare material for publication: SHELXL97.
---
Supplementary data and figures for this paper are available from the IUCr electronic archives (Reference: FJ2332 ).
---
Acknowledgements
This work was supported by Priority Research Centers Program through the National Research Foundation of Korea (NRF) funded by the Ministry of Education, Science and Technology (2009-0094056).
Bruker (2000). SADABS, SMART and SAINT. Bruker AXS Inc., Madison, Wisconsin, USA.
Farrugia, L. J. (1997). J. Appl. Cryst. 30, 565.



Flack, H. D. (1983). Acta Cryst. A39, 876-881.



Hambley, T. W. (1986). Acta Cryst. C42, 49-51.



Sheldrick, G. M. (2008). Acta Cryst. A64, 112-122.



Spek, A. L. (2009). Acta Cryst. D65, 148-155.